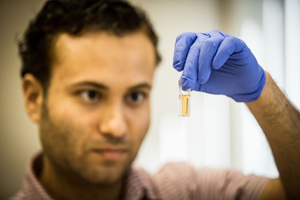 Whittier College has received $500,000 from The Ralph M. Parsons Foundation to support the redesign of the new Science and Learning Center (SLC). The SLC project – the largest capital project in the College's 127-year history – involves a complete renovation of the primary academic building on campus. Construction on the Center is slated to begin in Spring 2015.
 
This grant is the largest award Whittier has received from the Parsons Foundation – a long time supporter of the College.
 
"We are grateful to the Parsons Foundation for their vote of confidence in this endeavor," said President Sharon Herzberger. "Whittier has a tradition of educating scientists, health professionals, science and math teachers, and scientifically literate citizens. With the support of the Parsons Foundation, the renovation will enable the college to continue advancing in its role as a national leader in providing quality science and liberal arts education to its students."
 
"Moreover, as one of the most diverse liberal arts colleges in the nation, the new facility will support the College's ongoing aim of educating underrepresented and nontraditional students in the STEM fields," said Herzberger.
 
When combined with the leadership gifts from members of the Board of Trustees and other individual donors, the College has now passed the halfway point in fundraising for the SLC.
 
The SLC will house seven departments: biology, chemistry, environmental science, kinesiology and nutrition science, mathematics, physics, and psychology. 
Design elements of the new SLC include:
New labs designed for cross-disciplinary research fostering collaboration and providing enhanced learning opportunities for students.
Redesigned classrooms equipped with flexible furnishings including movable benches and variable seating to allow for maximum use by a wide range of disciplines.
Student collaboration zones to promote peer-to-peer and group learning, expand team building opportunities, and foster spontaneous discussions on math and science.
Clustered faculty offices near labs to facilitate interdisciplinary teaching and research conducted by faculty, and maximize availability to students doing research.
"Science on Display" — the use of glass in the new design enabling students, faculty and visitors to see students engaged in science learning from inside and outside the building.
"Open air and light" promoted by incorporating shared open spaces throughout the building, transparent walls to increase natural light, a rooftop gathering space which will also house the Department Physics and Astronomy's telescopes, and outdoor class annexes.
Since 1978, the Ralph M. Parsons Foundation has helped Southern California's nonprofit organizations improve the broad fabric of the entire community. This approach recognizes that museums and arts programs are as important to our collective well-being as after school services, community clinics, and food banks. Accordingly, Parsons invests in excellence in social services, health care, the arts, and higher education in Los Angeles County.