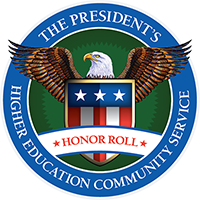 For the fourth year in a row, Whittier College has been recognized with the President's Higher Education Community Service Honor Roll with Distinction. The distinction awarded by the Corporation for National and Community Service (CNCS), is the highest federal recognition colleges and universities can receive for community service, service-learning, and civic engagement.
All College community engagement projects and programs are included as part of the application, but three service-learning projects, led by Whittier College faculty and students, were highlighted in the College's 2014 Honor Roll application: Physical Activity and Child Development Research Project at Lydia Jackson Elementary, Reading Friends Project at Lydia Jackson Elementary, and La Serna High School Garden Project with English Language Learners (ELL.)
"We are honored to be among the group of institutions chosen in recognition of our good work in the community," said Joyce Kaufman, director of the Center for Engagement with Communities at Whittier College.
The President's Higher Education Community Service Honor Roll, launched in 2006, annually highlights the role colleges and universities play in solving community problems and placing more students on a lifelong path of civic engagement by recognizing institutions that achieve meaningful, measurable outcomes in the communities they serve.
In addition, Whittier College was recognized by the Carnegie Foundation in 2010 as one of only 361 institutions to hold the Community Engagement Classification for its level of commitment and making significant strides in engaging with the community.