September 29, 2011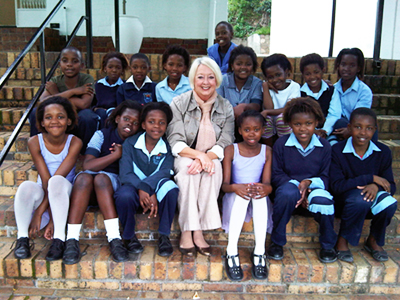 Alumna Linda Biehl '65, co-founder of the Amy Biehl Foundation, will be the keynote speaker at the 2011 Whittier College New Student Convocation on October 27 at 7:00 p.m. in the Ruth B. Shannon Center for the Performing Arts, 13406 Philadelphia Street, Whittier, CA, Whittier College. In 1993, Biehl's daughter Amy was killed by political radicals in South Africa while she was there as a student. Linda and her late husband Peter turned the tragic death of their daughter into action by creating the Amy Biehl Foundation to keep their daughter's passion for helping others alive and to serve the needy of that country. Biehl's lecture will include inspirational stories while she shares her experiences working in South Africa. This event is free and open to the public. Please note, seating is limited; first-come, first-served.
The work of the Amy Biehl Foundation in Guguletu, South Africa, has had a direct impact on the lives of the people there, and serves as a lasting model for social action. In 2009, Biehl was awarded South Africa's highest honor, for her exemplary work — the Order of Companion of O.R. Tambo, presented to her by President Thabo Mbeki. The President's office cited her "outstanding spirit of forgiveness in the wake of the murder of her daughter and contributing to the promotion of non-racism in post-apartheid South Africa." Past recipients of this award include former U.N. Secretary-General Kofi Annan and posthumously, to Indian leader Mohandas Gandhi. Biehl '65 is also the 2011 Center for Engagement with Communities (CEC) Fellow. Community engagements is a hallmark of a Whittier education.
The CEC, directed by Professor Joyce Kaufman, is an expansion of Whittier's proud history of partnering with communities—those surrounding the College and beyond—and builds upon the successful College & Community/Community & College program that exemplifies Whittier's commitment to applied learning and to educating students for citizenship and service.
Students have been preparing for Biehl's lecture via summer reading assignments that introduced them to issues in South Africa and to the writings of former South African president Nelson Mandela. Throughout the year, these readings will serve as the curricular platform for all first-year writing courses.