September 29, 2012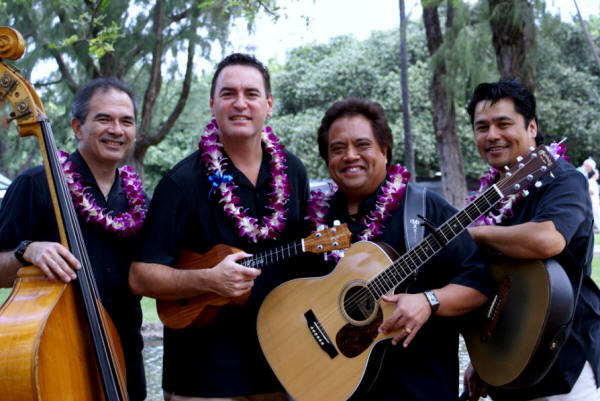 The annual celebration of Hawaiian music returns with a new line-up of award-winning and internationally acclaimed musicians and performers. The featured artists will include Ho'okena, Owana Salazar, Nathan Aweau, The Brothers Cazimero and many more. As one of the only venues on the mainland to consistently showcase the arts of the Pacific Islands, the Ruth B. Shannon Center for the Performing Arts invites everyone to relive, or experience for the first time, Hawai'ian culture and music during the 2011-2012 season. Artists give performances at 3:00pm and 8:00pm in the Ruth B. Shannon Center for the Performing Arts, 6760 Painter Ave., Whittier, CA 90608, Whittier College; general admission $40. For more information contact the Shannon Center boxoffice@shannoncenter.org or 562.907.4203.
2011
October 1: Led Kaapana, Dennis Kamakahi, Mike Ka'awa & Nathan Aweau
Kaapana, Kamakahi, Ka'awa, and Aweau have shared several achievements over the span of their successful careers including Grammy Awards, Grammy Nominations, and Na Hoku Hano Hano Awards. These critically acclaimed performers infuse a mixture of traditional and modern Hawai'ian music with American jazz, folk, and blues to create truly new and innovative sounds. Together, the warm vocal and instrumental stylings of these artists will create a night to remember on the stage of the Robinson Theater.
December 10: Ho'okena
This two-time Grammy Nominated group brings to life the spirit of Hawai'i with their "high quality" island music. Since 1989 they have produced 10 albums and have won several Na Hoku Hano Hano Awards. Ho'okena travels all over the world promoting the rich heritage of Hawai'i.
In Hawaiian, Ho'okena means "to satisfy thirst." It is also a district in South Kona known for its beautiful beach, Puhau spring, Lelekawa swimming hole, Kupa (Cooper's) Landing and Kapewaokamanini Bay. 
Whether playing for thousands of concert-goers, an intimate gathering or a practice jam session, Ho'okena loves what they do, and is grateful for the blessings of talent and the bounty of Hawaiian heritage.
2012
January 21: The Makaha Sons
With 21 albums and countless Na Hoku Hano Hano Awards, The Makaha Sons are considered to be one of Hawai'i's premiere Hawaiian musical groups today. For over 30 years, the trio have been keeping up with island music traditions and performing for thousands of people. Their performances have taken them to such prestigious places such as Carnegie Hall in New York City, Washington, D. C., and here in Hawai'i, with performances for both the President and Vice-President of the United States.
March 24: Owana Salazar and Nathan Aweau
Owana Salazar is a world renowned slack-key and steel guitarist. She has been nominated for various Na Hoku Hano Hano awards and has performed with legendary artists such as George Kahumoku, Jr., Keoki Kahumoku and Daniel Ho. She was the first woman invited to tour in with the Hawai'i'an slack key festival.
Combining his 7-string bass guitar with the imagery of Hawai'i's gentle beauty, Nathan Aweau's smooth vocals and original compositions unite the traditional and contemporary sounds of American jazz, folk and blues. Infused with the graceful elegance of hula, his show is breathtaking. Nathan is revered by his peers and loved by his fans and has garnered nine Na Hoku Hanohano awards over the span of his 27 year career. Nathan, a seasoned performer, was the music director and bassist for Hawaii's icon Don Ho for 15 years.
May 12: The Brothers Cazimero
Remarkable entertainers on stage, The Brothers Cazimero achieve a full-bodied sound that emanates from two traditional instruments, the acoustic bass and a twelve-string guitar. Their music has been celebrated around the world and has been licensed for use in film, television and commercial projects. Not only do residents of Hawai'i find that this music has magical qualities, but visitors to these islands will take home multiple copies to use for relaxation as they get back in everyday routines, give to friends and relatives and as living souvenirs of their vacation to this island paradise.
The Grammy-nominated duo was inducted into the Hawaiian Music Hall of Fame in 2006, joining the ranks of Hawaiian music legends. In 2007, Robert and Roland were again given Na Hoku Hano Hano honors, taking home the award for Christmas Album of the Year for Caz Christmas.