October 1, 2011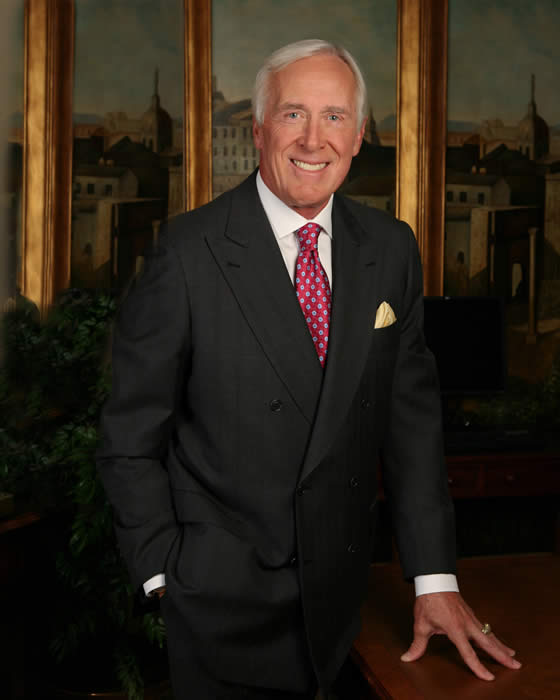 Brigadier General Pete Dawkins, U.S. Army (Ret.) will be speaking at Whittier College on Friday, October 21, from 3:00-4:30 p.m. in AJ Villalobos Hall, 7214 Painter Avenue, Whittier, CA 90608, during the 2011 Whittier Weekend Leadership Forum: "Leadership Defined in—and Defining—the 21st Century." The forum will be moderated by Whittier College Board Chair and Executive Vice Chair for Kennedy Wilson Don Herrema '74 and feature alumni panelists Edwin Keh '79, global entrepreneur and consultant, and Matt Espe MBA '84, CEO for Armstrong World Industries, Inc., as well as guest panelist General Dawkins. This event is open to the public, seating is first come, first served.
A well-known figure in recent American history, Dawkins has a storied career history that encompasses 24 years in the military with numerous decorations and top rank achieved; leadership posts in private industry, including vice-chair for Citigroup; selection for a Rhodes Scholarship; selected for the Heisman Trophy; and, in 2006, named a Horatio Alger Distinguished American. Currently, Gen. Dawkins is the founder and senior partner of Flintlock Capital Asset Management, LLC.
SPEAKER BIOS
Brigadier General Pete M. Dawkins 
A 1959 graduate of West Point, Brigadier General Peter M. Dawkins served in the U.S. Army for 24 years. He commanded a company in the 82nd Airborne Division, led a battalion in Korea, and commanded a brigade of the 101st Airborne Division. He was promoted to Brigadier General in 1981. 
During his military career, Gen. Dawkins earned several awards and honors, served as military assistant to the Deputy Secretary of Defense, and was selected as a White House Fellow. 
He began his career in the private sector as head of the Public Financing Banking division of Lehman Brothers. He led a three-year initiative focused on providing creative financing to overhaul a significant portion of the physical infrastructure throughout the country. 
Today, Gen. Dawkins is Senior Partner for Flintlock Capital Asset Management, a company he founded, and most recently he served as vice chairman of Global Wealth Management for Citigroup, vice chairman of the Citigroup Private Bank, and executive vice president and vice chairman of Travelers Insurance during an 11-year tenure with the firm. Previously, he served as chairman and CEO of Primerica Financial Services, and earlier served as head of the U.S. consulting practice of Bain & Company. 
Gen. Dawkins sits on several Boards guiding nonprofit arts, community, and educational organizations. He holds a B.A. from West Point, and a Ph.D. from the Woodrow Wilson School at Princeton University. Playing football at West Point, he was selected the 1958 Heisman Trophy winner; he subsequently won a Rhodes Scholarship which took him to Oxford University from 1959 through 1962. In 1963, Time magazine identified him as one of the "Top 50 Leaders in the U.S.," and, in 2006, he was selected to receive the Horatio Alger Distinguished American Award.
Donald J. Herrema '74
Executive Vice Chairman, Kennedy Wilson Chairman, Whittier College Board of Trustees Donald J. Herrema has a distinguished history of 30 years in financial services, including asset management, commercial real estate, private wealth, and banking. He is Executive Vice Chairman of Kennedy Wilson and the Managing Member of BlackSterling Partners, LLC. His executive experience includes posts as CEO of Bessemer Trust, of Loring Ward, and of Atlantic Trust (a subsidiary of INVESCO), and Head of Private Wealth Management at Morgan Stanley. Herrema is a Director of TD Bank Asset Management USA Funds and Lepercq, de Neuflize and Co and also serves as a Senior Advisor to Stone Point Capital. He began his career at Wells Fargo Bank, where he ultimately became president of Wells Fargo Securities and Head of the Mutual Funds division. 
In addition to chairing the Whittier College Board of Trustees, Herrema is a member of the Board of Leaders of the University of Southern California's Marshall School of Business. He holds a B.A. from Whittier College and an M.A. in economics from the University of Southern California.
Matthew J. Espe MBA '84
CEO & President, Armstrong Industries Worldwide, Inc. Having led businesses in Europe, Asia, and North America, and with 30 years of experience in sales, marketing, distribution, and management of global manufacturing businesses, Matthew J. Espe currently serves as president and CEO for Armstrong Industries Worldwide, Inc. Prior to this position, he served as CEO and Chairman with Ricoh Americas Corporation, a subsidiary of Ricoh Company Ltd.; as CEO and Chairman for IKON Office Solutions, Inc., a $4 billion office equipment distributor and services provider with 24,000 employees acquired by Ricoh in 2008; and as President and CEO of GE Lighting. For GE, he managed multiple functional areas, including sales, marketing, distribution and manufacturing as well as management within several business units.
Espe is a member of the Board of Unisys Corporation, and an active volunteer and member of the Board of United Way of Southeastern Pennsylvania. He holds a B.A. from the University of Idaho, and an M.B.A. from Whittier College.
Edwin Keh '79
Global Entrepreneur & Consultant Edwin Keh has spent more than 30 years as a management executive and active consultant for international corporations and charities, and has recently been named the 2011 recipient of the prestigious Martin K. Starr Excellence in Production and Operations Management Practice Award. His most recent corporate post was as COO and Senior Vice President for Wal-Mart Global Procurement, managing offices in 20+ countries and sourcing activities in 50+ countries, and assisting in the coordination of the 2008 Global CEO Summit on Sustainability. Previously, he held lead management positions with companies such as Payless Shoesource International, Donna Karan International, and Country Road Australia. As a consultant, Keh managed work on supply chain, manufacturing, and product design for both nonprofit and for-profit organizations. His commercial clients included Berkshire Hathaway and Payless Shoes Australia, and his non-profit work took him to Burma, Thailand, the Philippines, Laos, and China, where he worked with schools, orphanages, tribal peoples, and people afflicted by leprosy. While teaching at The Wharton School, Keh is also currently working with Yale and Harvard Universities on a new initiative on governance and capacity-building in Africa.
A Trustee on the Board of Whittier College, and member of the Boards of both FACE and Handa, Keh holds a B.A. in political science, sociology, and urban design from Whittier College, and completed some graduate work at the Peter S. Drucker School of Management at Claremont Graduate University.