May 2, 2011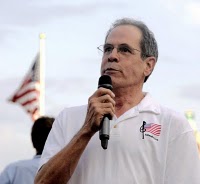 Whittier College religious studies professor Joe Price is spending the 2011 baseball season traveling across the country singing the national anthem for minor league baseball teams — at the end of his Anthem Tour he will have sung the "Star Spangled Banner" at about 100 parks in 40 states. Locations extend from Manchester, New Hampshire, to Lake Elsinore, California, and from Everett, Washington, to St. Lucie, Florida. His tour began in April and will continue through September — along the way he has been blogging about the experience.
Related News Stories:
His first stop was in Viera, Florida, for the Brevard County Manatees on Opening Day for Minor League Baseball, and the final date will be on Labor Day weekend in San Bernardino, California. Previous to this, he will be in Nevada for his hundredths performance, singing for the Reno Aces on August 29.
Price, who has written extensively about the intersection of sports and religion, has been a baseball fan since childhood.
"One of my earliest memories of reading is of the newspaper report about Don Larsen's perfect game in the World Series in 1956," he recalls. "In a way I sensed a connection between the perfection of his performance and my family's religious standard that aspired to perfection. If baseball could have a perfect game, I thought, then surely it must be good. At that point, I got hooked on baseball."
Already, Price holds the distinction of being invited to sing the national anthem for more than 30 Major League games in stadiums throughout the country, including Wrigley Field, Comiskey Park, Candlestick Park, Coors Field, Dodger Stadium, and Angel Stadium, among others.
Price and his wife Bonnie will make the five-month trip in their RV, on which they expect to log about 15,000 miles. Throughout their travel he and Bonnie will blog about their experiences. Accounts and pictures of their anthem venture will be regularly added to the project's website, which will also provide the itinerary for the tour, a calendar of games, and directions to ballparks: http://anthemtourblog.blogspot.com/
"There are several distinct parts of the trip that I'm keenly anticipating," Price notes. "I look forward to singing the anthem traditionally almost every night during the spring and summer. I also expect to enjoy the ambiance created by the different ballparks, meeting fans in various communities and observing how baseball serves to unify them. And, of course, I am excited about seeing the incredible panoramas of the American landscape."
Currently on sabbatical, Price will reflect on his travels in writing Perfect Pitch: The National Anthem for the National Pastime, a book on the history and performance of "The Star Spangled Banner" at professional baseball games.  
A 25-plus-year veteran of the Whittier faculty, Price is the Genevieve Connick Chair of Religious Studies and regularly offers a course on "Sports and Religion." He is also the author of two books on the topic:Rounding the Bases: Baseball and Religion and America and From Season to Season: Sports as American Religion. He has also lectured on the relationships between sports and religion at Harvard, The University of Chicago, TCU, the University of Washington, Stetson University, and the Mayo Clinic, among other universities, institutions, and public forums.
Link to a rendition that Price delivered for a Cincinnati Reds' game a few years ago: http://web.whittier.edu/library/videos/joeprice/joeprice.html.