August 1, 2011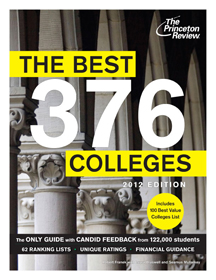 Whittier College is one of the country's best institutions for undergraduate education, according to The Princeton Review. The education services company features the school in the 2012 edition of its annual college guide, "The Best 376 Colleges."
Only about 15% of America's 2,500 four-year colleges and three colleges outside the U.S.A. are profiled in the book, which is The Princeton Review's flagship college guide.
In its profile on Whittier, The Princeton Review praises the school for its "small class, well-rounded students, and interdisciplinary approach to academics."
The guide also quotes extensively from Whittier students that were surveyed for the book on topics ranging from assessments of their professors to opinions about their financial aid and campus food.
Among their comments about their campus experiences students said:
"[We are] encouraged to take courses in seemingly unrelated fields and then make connections to see how they actually all relate."
"All of your professors will know you by name, and not by number, because you matter to them."
"Everyone respects, as well as embraces, each other's uniqueness."
"We commend Whittier College for its outstanding academics, which is the primary criteria for our selection of schools for the book. Our choices are based on institutional data we collect about schools, our visits to schools over the years, feedback we gather from students attending the schools, and the opinions of our staff and our 28-member National College Counselor Advisory Board. We also work to keep a wide representation of colleges in the book by region, size, selectivity and character," said Says Robert Franek, Princeton Review's senior vice president, publisher, and author of "The Best 376 Colleges."
About The Princeton Review
The Princeton Review has been a pioneer and leader in helping students achieve their higher education goals for 30 years through college and graduate school test preparation and private tutoring. With more than 165 print and digital publications and a free website,www.PrincetonReview.com, the company provides students and their parents with the resources to research, apply to, prepare for, and learn how to pay for higher education. The Princeton Review partners with schools and guidance counselors throughout the U.S. to assist in college readiness, test preparation and career planning services, helping more students pursue postsecondary education.