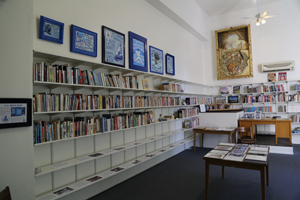 Whittier College is now home of the Institute for Baseball Studies, the first humanities-based research center of its kind associated with a college or university in the United States. The Institute is a partnership between Pasadena-based Baseball Reliquary and the College. The Institute is located on the third floor of Mendenhall Building.
The Baseball Reliquary is a nonprofit, educational organization dedicated to fostering an appreciation of American art and culture through the prism of baseball history and to exploring the national pastime's unparalleled creative possibilities. The Reliquary's research collection forms the centerpiece of the Institute for Baseball Studies, which has been established to foster an intellectual community for creating and supporting interdisciplinary research and studies related to the cultural significance of baseball in American history. 
Whittier College Professor of Religious Studies Joseph L. Price and Terry Cannon, executive director of the Baseball Reliquary, serve as co-Directors of the Institute. Professor of English Charles Adams and Professor of Political Science Mike McBride serve as Associate Directors. An Advisory Board will soon be announced.
"For more than two decades, Professor Charles Adams and I have made baseball-related presentations at the annual meetings of the Popular Culture Association and American Culture Association. We have written numerous essays connecting baseball literature with our respective areas of study, and we routinely deal with baseball in our courses on American Intellectual and Cultural History," says Price. "So when we learned two years ago that the Baseball Reliquary was looking for a partner to house its research archives, we jumped at the opportunity."
The Baseball Reliquary's research collection includes books and periodicals, the papers of distinguished baseball historians and journalists, and a variety of materials that will support multifaceted and interdisciplinary studies at Whittier College, and will prompt the exchange of ideas, the development of research initiatives, and the creation of public symposia and celebrations highlighting baseball's significance in American culture.  To supplement this collection of research materials, Whittier College professors Adams, McBride, and Price have donated their archive of nearly 1000 baseball books to create an impressive resource for baseball studies.  The Institute will be accessible to students, scholars, and the general public, and a formal opening is planned for later this fall.
The Institute for Baseball Studies is open to the public on Fridays from 12:00 p.m. to 5:00 p.m., and on other days by appointment only. For further information, contact Institute for Baseball Studies Co-Director Joseph L. Price by e-mail at jprice@whittier.edu or by phone at (562) 907-4803.