January 21, 2013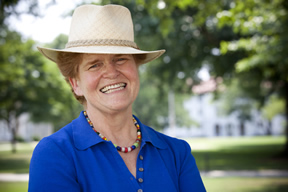 Dr. Deborah Lipstadt, a member of the prestigious American Academy of Jewish Research, will be the 2013 Feinberg Lecture speaker on Wednesday, March 13 at 7:00 p.m. in the Ruth B. Shannon Center for the Performing Arts, 13406 Philadelphia Street, Whittier, CA 90608. Lipstadt is an internationally prominent historian of the Jewish Holocaust and a staunch advocate for preservation of its critical place in world history.
Lipstadt has played a central role in legal and political cases involving Holocaust denial — most famously in David Irving v. Penguin/Deborah Lipstadt. A presidential-appointee to the U.S. Holocaust Memorial Council, Lipstadt also served as historical consultant to the related Museum, helped design its section on American response to the Holocaust, and chaired the Museum's educational and academic committees. Lipstadt is a former member of the U.S. State Department Advisory Committee on Religious Freedom Abroad, charged with advising then-Secretary of State Madeline Albright.
Among various honors for her work, Lipstadt was selected by the Jewish Council for Public Affairs to receive the distinguished Albert D. Chernin Award, given to "an American Jew whose work best exemplifies the social justice imperatives of Judaism, Jewish history and the protection of the Bill of Rights, particularly the First Amendment."
Lipstadt currently serves as the Dorot Professor of Modern Jewish and Holocaust Studies at Emory University in Atlanta and directs the website HDOT.org (Holocaust Denial on Trial). She is a frequent expert commentator for the news media, including outlets such as NPR, the BBC, New York Times, and Washington Post, among others
The Feinberg Lecture Series is made possible through an endowment established by the late Sheldon Feinberg, a former trustee of Whittier College, and his wife, Betty, in order to invite major scholars to the College to discuss broad historic, religious, and political issues encompassed by Judaism and its role in a changing world. Previous Feinberg Lecturers include U.S. Ambassador to Israel and Egypt Daniel C. Kurtzer, Dr. Judea Pearl, Justice Richard Goldstone, radio talk show host and author Dennis Prager; John Loftus, prosecutor of Nazi criminals; Seymour Martin Lipset; John Rothmann, KGO talk show host; and Rodger Kamenetz, author of the national bestseller The Jew in the Lotus.