September 1, 2017
On a bright, sunny September day, Whittier College welcomed its largest first-year class with a total of 542 first-year students and 77 transfer students, who all arrived for New Student Orientation.
First stop was North Lawn where students had the opportunity to check-in, meet peer advisors, and get keys for their new residence hall abodes. Sporting yellow shirts, Poet volunteers were on-hand to help students and their families carry boxes and make their way into the residence halls.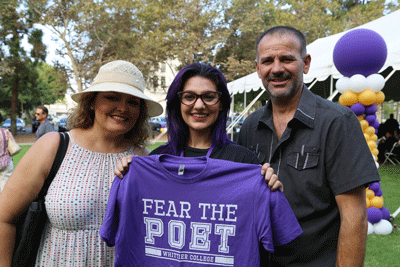 Orientation also gave students and their families the opportunity to meet continuing students, campus leaders, faculty, and staff, all while getting to explore the campus during the various sessions, receptions, and small group meetings. All attendees were invited to sample the lunch-time fare in the Campus Inn. To see more photos of Orientation, including move-in, visit our Facebook photo gallery.
In the evening, the students participated in Whittier's traditional President's Convocation and Light of Learning Ceremony. Visit our YouTube channel to view the Ceremony. 
Vice President of Enrollment Kieron Miller spoke about the uniqueness of the entering class that includes students from 14 foreign countries – Argentina, Australia, Bangladesh, Canada, China, Honduras, India, Japan, Mexico, South Africa, Suriname, Sweden, Switzerland, and United Kingdom and 27 states in the country.  
The class of 2021 includes a very talented and diverse group. It includes two students who served in the armed forces, a competitive Irish dancer, and a student who had an apprenticeship with a world-renowned knife maker.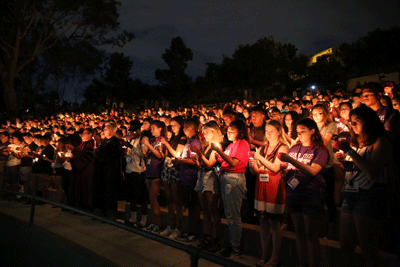 President Herzberger shared a welcome message for new students: "When I look out at the students sitting before me tonight, I realize that there are probably 100 different reasons why you chose Whittier College. Let me tell you one more," said President Herzberger. "Because of the dedication, determination, and sheer talent of our faculty, because of the diversity of thought and background you will encounter on this campus, and because of our commitment to founding traditions that will remind you to stop and listen and think, you will learn habits of mind and character to get As in life."  
Read President Herzberger's address to the class of 2021.
Classes for all undergraduates begin September 6.