May 13, 2011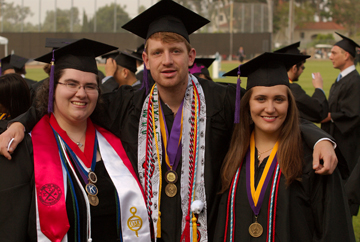 Bryanna Benedetti '11 is heading off to Sri Lanka this fall to conduct research on the role that youth organizations play in achieving lasting peace in a post-war Sri Lankan society as part of her 2011 Fulbright Fellowship.
Joining Benedetti on the 2011 Fulbright slate are political science majorThomas Elliott '11 and history and English double major Mary Helen Truglia '11. Both Elliott and Truglia completed Keck Fellowships at Whittier, and all three conducted intense study abroad research that prepared them for the Fulbright contest.
"We are proud to have three Fulbright scholars this year who will be participating in vital international study and research. This award recognizes the outstanding work of our students and their faculty mentors. Moreover, five of our students were finalists for Fulbright awards—quite an accomplishment," said President Sharon Herzberger.
Benedetti's proposed Fulbright research derives in part from her undergraduate project completed during her fall 2009 semester in Sri Lanka. As such, Benedetti has an established base of contacts and academic mentors which she will be working with in the fall. Moreover, she has continued her connected to Sri Lanka since returning from her study abroad experience.
"I served as the Permanent Representative of Sri Lanka in the Model United Nations of the Far West. In this role I briefed Model U.N. delegates on national current affairs," explained Benedetti. "I have also found a Sri Lankan community in Los Angeles where I practice my Sinhala and gain knowledge about the country from the perspective of Sri Lankans now living in the U.S."
Elliott and Truglia were selected for the Fulbright English Teaching Assistantship award, which involves spending at least 20 hours a week helping teach English at their assigned foreign school. Both of them will head off to their respective assignment in spring 2012. Truglia will be in Malta, while Elliott will be in Brazil. Each of them will also conduct side projects. 
Truglia previously studied in England and is looking forward to her new experience in the small Mediterranean country. In tandem with her teaching duties, she plans to work on two projects related to children's literature and culinary arts.
"I'm [looking forward] to learning from my Maltese students and from people I will meet in my day-to-day life," she said.
Elliot previously completed fieldwork within an Aymara/Quechua community near La Paz, Bolivia. He divided his time doing archival research in the city and attending meetings, rituals, and participating in the daily life of the community.
"I got to dance in rituals that have been practiced since before the conquest and had to speak three different languages while there — Spanish, Quechua, and Aymara. I can hold my own in Quechua."
While in Brazil he is looking forward to picking up a new language and immersing himself in a new culture.
"I lived in South America for nine months last year, and I loved it," he said. "I studied Spanish and local culture, and I am excited to return and live there a full year."
Elliott has yet to choose his side project but it will likely be focused on photography.
The Fulbright Program, established in 1946 by the late U.S. Sen. J. William Fulbright, is the flagship international educational exchange program sponsored by the U.S. government. It is designed to increase mutual understanding between the people of the United States and of other countries.