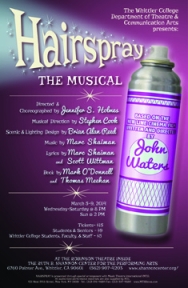 Hairspray the Musical will be coming to the Whittier College stage March 5-8 at 8 p.m. and March 9 at 2 p.m. in the Robinson Theatre of the Ruth B. Shannon Center of the Performing Arts, 6760 Painter Ave., Whittier, CA 90608. General Admission $15; Students/Seniors $9. For additional information, directions, or to purchase tickets, call (562) 907-4203 or visit www.shannoncenter.org.
Hairspray the Musical is a comedic production that highlights major social issues such as racial segregation and body image. Set in 1962 Baltimore, a young and plump Tracy Turnblad lands a spot on the Corny Collins Show and becomes a dancing sensation overnight. After she learns of the injustice of "Negro Day" allowing the black dancers one day of the month to dance, Tracy does everything in her power to integrate the show.
This production is directed and choreographed by Jennifer S. Holmes, Director of Center for Collaboration with the Arts at Whittier College. Each year the theatre department produces up to four faculty directed productions. These plays afford students the opportunity to engage in theatre as a collaborative process.  
CAST 
Wilbur Turnblad, Mr. Pinky– Andrew Zubiate
Seaweeed J. Stubbs- Christian Mohn
Lil' Inez- Christina Mecklenburg
Harriet F. Spritzer- Irene Keogh
Motormouth Maybelle– Jaimis Ulrich
Edna Turnblad- Jonathan Tupanjanin
Amber Von Tussle- Lauren Vau
Velma Von Tussle- Meagan Caldwell
Prudy Pingleton- Melanie Hoglund
Link Larkin- Parker Reis
Corney Collins- Sean Kenny
Tracy Turnblad- Shumani Massa
Penny Pingleton- Stella Gordon
Von Tussle Girl- Carmen McCarrel, Samantha Sanchez
Dynnamite Girl- Allie Schammel, Aurora Ilog, Kiara Downs, Marissa Ochoa ,  Selorm      Kploanyi
Ensemble- Aaron Espinoza, Alyse James, Dasha Neymark, Tori Esquer, Alexandra Robledo, Elizabeth Lavin, Manuel Escalante, Molly Cunningham, Natasha Alhandy-Shaw, Jordan Robledo, Bobbie Terrazas, Rachael James