April 26, 2019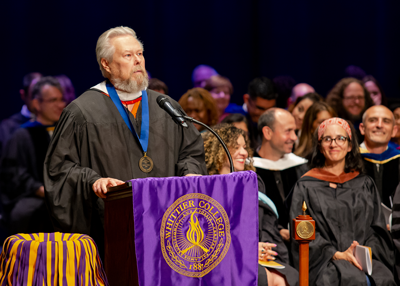 Close to 150 Whittier students were acknowledged for their service, leadership, and academic achievements at this year's Honors Convocation held at the Ruth B. Shannon Center for the Performing Arts.
The annual ceremony acknowledges undergraduate fellowship recipients as well as academic achievement awards, scholar-athlete awards, and departmental awards, as well as service and leadership awards. See the full list of awardees.
 
During the ceremony, Senior Lecturer and Director of the Writing Program Charles Eastman was presented with the 2019 Harry W. Nerhood Teaching Excellence Award. Named for Professor Emeritus of History Harry W. Nerhood, the award recognizes overall excellence in teaching. Eastman's academic interests include rhetoricist theory, new historicist criticism, writing assessment, collaborative composition, neorealismo, the anti-fascist novel, propaganda, and the social use of images. He has presented his work on collaborative composition, writing assessment, and integrating first-year programs at regional, national, and international conferences.
 
The 2018 Nerhood Awardee and Associate Professor of Applied Psychology Christina L. Scott served as the keynote speaker for the ceremony. In her speech, Scott asked the students to face the audience, faculty, and each other and think about how those people have stood by them during their time at Whittier College.
"As you go into the next chapter of your lives, I want you to be proud of yourself. You did an outstanding job or you wouldn't be here," Scott said during her speech. "Your families and your loved ones are bursting with pride. I want you to carry that pride to the next chapter, but I also want you to look for the people that you will stand beside and the people who will stand beside you so that you can be the very best person that you can possibly be. Poets, please never forget: we stand by you, your family stands by you, your peers stand by you. We always have and we always will."