September 3, 2018
Sunday saw the early morning arrival of more than 600 new Poets to the Whittier College campus for the 2018 New Student Orientation and Move-In Day.
The day featured many events planned to introduce these new Poets to campus. Upon arrival, students and guests were welcomed by cheerful peer advisors and staff as they navigated check-in and registration and were assisted with the move-in process by Poet move-in-crews stationed at each residence hall.  
The occasion also marked President Linda Oubré's first Whittier Orientation since taking office on July 1.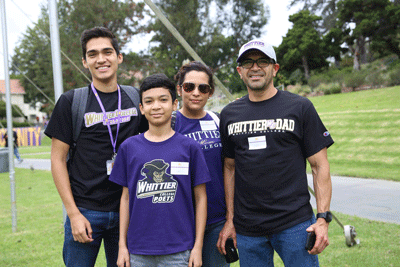 During Orientation, students and their families had the opportunity to meet with other students, campus leaders, faculty, and staff while exploring the campus and participating in the various information sessions, receptions, and small group activities. To see more photos of Orientation, including move-in, visit our Facebook photo gallery.
 
That evening, the new students participated in one of Whittier's most significant tradition, the President's Convocation and the Light of Learning Ceremony.
 
"Just as our aim is to prepare you for success as students, our mission is also to instill in you the importance of being responsible global citizens," said President Oubré to the students during her speech. "To do this, we must align ourselves to our values of equity and inclusion. As an institution founded on Quaker ideals, we will nurture and develop you into leaders who believe in social justice, ethical decision-making, a commitment to serving others, and making a difference in our interconnected global world."
 
Read President Oubré's address to the class of 2022.
 
Vice President of Enrollment Kieron Miller also welcomed the students and spoke about the entering class that includes students from 31 different states—Washington, Hawaii, Oregon, Colorado, Illinois, Vermont, Texas, New York, etc.—and 13 foreign countries including China, Spain, India, and Canada, among others.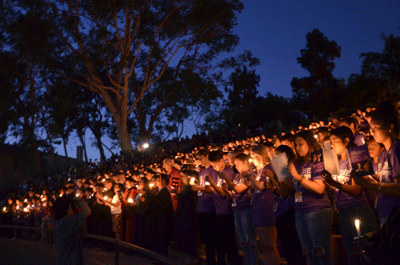 The new class includes many students who have travelled the world to do volunteer work, teach English to children, and raise money for needy communities. "The class has heart and a caring spirit—the Whittier spirit," said Miller.
 
This year, the Orientation team also launched pre-orientation programs designed to help students get a head start on the fall semester. The programs included a preservation project trip to Catalina Island; an arts and entertainment-focused trip with visits to the Disney Concert Hall and Warner Brothers Studios, among other locations; a people and culture-focused trip with visits to the California African American Museum, the Huntington Library, and a Dodger game; and a science and technology-focused trip with visits to Griffith Park and the Aquarium of the Pacific.
 
Classes for all undergraduate students at Whittier begin September 5.