April 12, 2012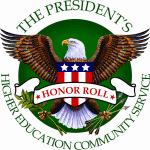 For the second year in a row, Whittier College has been admitted to the President's Higher Education Community Service Honor Roll with distinction for its exemplary commitment to service, developing campus-community partnerships that produce measurable impact, and engaging students in meaningful service-learning activities. Awarded by the Corporation for National and Community Service (CNCS), the honor with distinction was given to only 110 colleges and universities across the nation.
"Through service, these institutions are creating the next generation of leaders by challenging students to tackle tough issues and create positive impacts in the community," said Robert Velasco, acting CEO of CNCS. "We applaud the Honor Roll schools, their faculty and students for their commitment to make service a priority in and out of the classroom. Together, service and learning increase civic engagement while fostering social innovation among students, empowering them to solve challenges within their communities."
"At Whittier College we believe in service learning," said President Sharon Herzberger. "Our students are very fortunate to have a faculty that provides them with opportunities to use the communities outside our campus as classrooms and to take part in meaningful projects that really make a difference in the lives of the stakeholders in these communities. It is such an honor to receive this wonderful recognition for the second year in a row. It shows our students that they are not just heroes here in our own neighborhood, but individuals also celebrated on a national stage."
Directed by professor Joyce Kaufman, the Center for Engagement with Communities (CEC) serves as both a hub for student-service learning projects and a force behind established and developing partnerships between the College and the community. The Center is a prime example of the College's commitment to applied learning and to educating students for citizenship and service. 
"We are all very proud of the good work the College is doing in the area of service learning and community engagement, and this is formal recognition of that work," said Kaufman.
On April 28, the CEC will host a College and Community Expo as a way to highlight, celebrate, and recognize Whittier College's partnership with the community. Students will present posters highlighting their projects, as well as participate in a panel discussion on community service.
CNCS oversees the Honor Roll in collaboration with the U.S. Departments of Education and Housing and Urban Development, Campus Compact, and the American Council on Education. Honorees are chosen based on a series of selection factors, including the scope and innovation of service projects, the extent to which service-learning is embedded in the curriculum, the school's commitment to long-term campus-community partnerships, and measurable community outcomes as a result of the service.
The Corporation for National and Community Service (CNCS) is a federal agency that engages more than five million Americans in service through its Senior Corps, AmeriCorps, and Learn and Serve America programs, and leads President Barack Obama's national call to service initiative, United We Serve. For more information, visit NationalService.gov.