January 9, 2013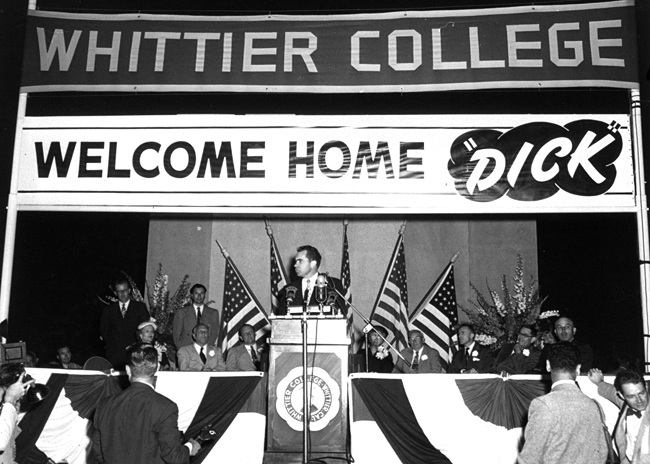 Whittier College's most famous alumnus Richard M. Nixon, the 37th President of the United States, would have turned 100 years old today. Arguably one of the most controversial U.S. leaders of the 20th century, his life and work are being remembered and honored in a number of ways.
Kicking off a year-long celebration of the 100th anniversary of his birth, the Nixon Library and Museum held a special ceremony on Sunday that was attended by friends, family, and members of the public. The program included the laying of a White House wreath from President Obama by Tricia Nixon Cox, a military flyover with AV-8B Harrier jets, 21-gun salute, and patriotic musical presentations by the 3rd Marine Aircraft Wing Band.
The Nixon Foundation will host a dinner tonight in Washington D.C. in the Grand Ballroom of the Mayflower Hotel, the same venue where Nixon's two inaugural balls were held in 1969 and 1973.
In the last two days, many articles have been written discussing Nixon's conflicted political legacy. Journalists have pointed to a number of impressive accomplishments that have been overshadowed by the Watergate Scandal and his subsequent resignation.
According to ABC News, "Nixon's legacy is larger than Watergate. He revolutionized foreign relations, set a foundation for modern environmental regulations and even advanced women's rights." More
Interviewed for the Whittier Daily News, Joe Dmohowski, librarian for Whittier College for nearly 30 years, agrees with this view of the former president.
"I think Nixon is a very important historical figure. You'll find more fans of Nixon here than anywhere in the world except China." 
Senior political science and economics double major Ernie Reus echoes that sentiment, adding that Nixon's undergraduate experience at Whittier was a formative time for the young man who would be president.
"I truly believe that Nixon's time at Whittier, with his various achievements and accolades, gave him the confidence to pursue greater goals beyond his college years, which he did, rather successfully. At the end of the day, Nixon accomplished great things as President that should be recognized, particularly in the foreign policy realm."
Nixon graduated summa cum laude from Whittier College in 1934, with a bachelor's degree in history. While at Whittier, he was a football player, student body president and founding president of Orthogonian Society, as well as a member of the Whittier College Board of Trustees (1940-1968).
More recently, the College established the Nixon Fellowship designed to prepare exceptional students for informed citizenship and service through internships, scholarship, and research opportunities that echo Nixon's successful legacy in domestic and foreign policy.
"We on campus celebrate our most famous alumnus in a number of ways, but most significantly through our annual Richard M. Nixon Fellowship competition, awarding talented students a stipend to undertake an internship or a research project anywhere in the world. I can think of no better way to continue the President's legacy than to inspire young people to explore careers in public service," wrote President Sharon Herzberger in her blog.
About a dozen students have been named Nixon Fellows and completed projects that allowed them to see politics and public policy in action in different parts of the United States, as well as China, Mexico, and Russia. 
Here are a few more excerpts of articles written about Nixon today:
The Atlantic — "On this, the 100th birthday of Richard Nixon, the slogan from his first campaign for Congress is the salient fact: 'One of us.' His dreams were ours — and so, in the end, were his sins." More
ABC News — "Nixon's legacy is larger than Watergate. He revolutionized foreign relations, set a foundation for modern environmental regulations and even advanced women's rights. Read on to find out more about Nixon's accolades and what biographer Bob Bostock says the president himself would call his valleys.'" 
US News and World Report —"Five Fascinating Facts About Richard Nixon on His 100th Birthday — Huge sports fan, big poker player, interesting neighbor" More
Fox News — "Nixon is many things to many people, but 40 years after his crushing 1972 reelection victory, it becomes clearer that he is also something few would have imagined: America's last liberal." More
Orange County Register —"Nixon had great triumphs in his early years, signing legislation to adopt Title IX, helping women's equality; expand the food stamps program; and preserve clean water. Most see Nixon's efforts to help normalize relations with China, the world's largest country, as the pinnacle of his political career." More
Reuters — "He looked at (the world) as a world with 200 countries and 200 leaders, and he studied every one of those leaders, and he knew most of them," said Bruce Herschensohn, a friend and speech writer for Nixon who delivered the keynote address. "It's a talent that I have never seen equaled." More