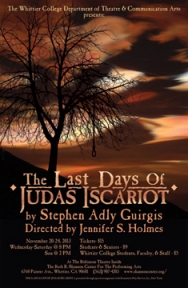 The Last Days of Judas Iscariot will be coming to the Whittier College Stage November 20-23 at 8:00 p.m. and November 24 at 2 p.m. in the Studio Theater of the Ruth B. Shannon Center of the Performing Arts, 6760 Painter Ave., Whittier, CA 90608. General Admission $15; Students/Seniors $9. For additional information, directions, or to purchase tickets, call (562) 907-4203 or visit www.shannoncenter.org. 
The Last Days of Judas Iscariot by Stephen Adly Guirgi is a comedic drama. Set in a courtroom in Purgatory, the infamous case of the most hated sinner in history, Judas Iscariot, is brought up for the jury to exam and decide if he is guilty of betraying Jesus Christ for a mere 30 pieces of silver. If he is found guilty, Judas will spend all eternity in the depths of hell. The Last Days of Judas Iscariot is a thought provoking play that challenges its audience to reflect upon their own beliefs, betrayals, and personal forgiveness.
This production is directed by Jennifer S. Holmes, Director of Center for Collaboration with the Arts at Whittier College. Each year the theatre department produces up to four faculty directed productions. These plays afford students the opportunity to engage in theatre as a collaborative process.