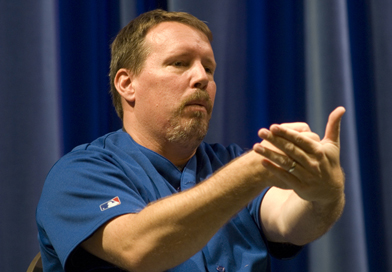 Soldier-poet Brian Turner's poetry reading concluded the 2010 Whittier College Writers Festival held this week. Turner was one of four dynamic literary and performance artists who made up the slate for this year's festival, which featured English poet Michael Hulse, novelist Ron Carlson, and playwright and performer Yehuda Hyman.
Turner, who served for seven years in the U.S. Army, was an infantry team leader in Iraq with the 3rd Stryker Brigade Combat Team, 2nd Infantry Division. His debut collection, Here, Bullet, was written during his tour of duty and reflects his war-time experiences in graceful and unflinching poetry.
"I really think it is beautiful to write about a cherry tree," said Turner in response to a student questions during the Craft Talk portion of his presentation. "But it feels right now that there are [bigger] issues that need to be attended to — poetry has value in that way."