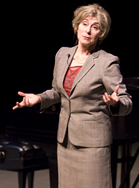 Nationally recognized performance artist, playwright, and musician Claudia Stevens gave a talk and presented her solo production, "An Evening with Madame F", a play about women musicians at Auschwitz, for the 2010 Feinberg Lecture.
Stevens' original musical drama, "An Evening with Madame F", stands among a handful of Holocaust-related theatrical pieces that give artistic expression to a catastrophe that defies comprehension. While drawing on several first-hand accounts by women musicians who survived the Holocaust, the story of Madame F primarily chronicles Fanja Fenelson, who, as a youth, performed in the women's orchestra at Auschwitz. The show's haunting musical score incorporates songs once performed by concentration camp inmates.
In her performance, Stevens meditates on issues of survival, guilt, and resistance. For instance, the character of Fanja Fenelson recounts how, despite the dire situation they found themselves in, the women's orchestra at Auschwitz secretly incorporated banned music into their arrangements.
The daughter of Holocaust survivors, Stevens' was originally advised by her family not to touch the subject.
"When I was growing up the holocaust was off limits — if you went there you paid the price. Twenty years ago, when I began the piece it lead into the unknown. The first time I performed the play I literally fell off the stage at the end," she told the audience.
Since 1990, this one-woman show has been presented at more than 100 venues across the country and produced for public television.
Established nearly two decades ago by former Whittier College Trustee Sheldon Feinberg and his wife, Betty, the Feinberg Lecture Series was created to invite major scholars to the college to discuss the broad historic, religious and political issues encompassed by Judaism and its role in a changing world.