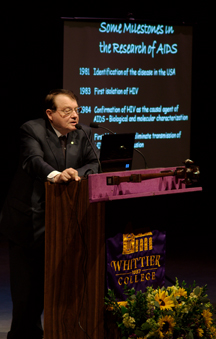 Dr. Luc Montagnier, 2008 Nobel Prize recipient and world renowned virologist, gave a special lecture, HIV/AIDS Research: past and prospects, to launch the new Center for Science, Health, and Policy at Whittier College. Montagnier also received an honorary degree from Whittier: a doctorate of humane letters (L.H.D.).
Montagnier, of the Pasteur Institute in Paris, is credited with the 1983 discovery of the human immunodeficiency virus (HIV), identified as the cause of acquired immunodeficiency syndrome (AIDS). Montagnier is the co-founder of the World Foundation for AIDS Research and Prevention and co-directs the Program for International Viral Collaboration; he is also president of the Houston-based World Foundation for Medical Research and Prevention. His ongoing research focuses on the search for an AIDS vaccine or cure.
Montagnier has received more than 20 major awards, including the Légion d'Honneur, the Lasker Award, and the King Faisal Foundation International Prize (known as the Arab Nobel Prize). In 2008, he was awarded the Nobel Prize in Physiology or Medicine for the discovery of HIV.
The lecture was sponsored by the Japan-based OSATO Research Institute. The work of the Institute, and its president Yuki Hayashi, focuses on overall wellness and the relationship of aging and the environment to immunological processes.
This is the inaugural event for the Center for Science, Health, and Policy. The Center is designed to maximize student learning by advancing the College's deep commitment to interdisciplinary curricula, collaborative teaching, undergraduate research and internships, and the integration of student learning experiences within local, national, and international communities.