March 30, 2017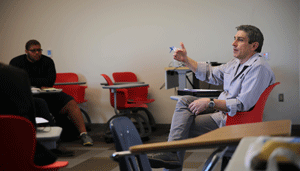 A slate of talented and notable U.S. and international poets and authors were on campus for the annual Whittier College Writers Festival. Kicking off the series was U.S. presidential inaugural poet Richard Blanco. During his two-day visit, Blanco spoke to various classes and gave a craft talk. He also delivered a campus-wide lecture and poetry reading with fellow poet David Hernandez.
Blanco, of Cuban heritage, was chosen as the fifth inaugural poet in U.S. history and read his poem One Today at President Barack Obama's second swearing-in ceremony. He is the youngest, first Latino, first immigrant, and first gay person to serve in such a role. Blanco is the author of several poetry collections including: Looking for the Gulf Motel, Directions to the Beach of the Dead, and City of a Hundred Fires; and two memoirs: The Prince of Los Cocuyos: A Miami Childhood and For All of Us, One Today: An Inaugural Poet's Journey.
Chinese poets Zang Di, Qing Ping, Ming Di, Li Sen, and Jiang Tao provided a cross-cultural poetic exchange during the festival as well as perspectives on the ecological issues facing China. In addition to an evening of reading, the poets spoke to students about their work and personal views on the environment. The five poets first met with a group of Whittier students and faculty during a recent Spring break trip to China. During that trip, the group worked together and translated their original poetry to English.
To round out the festival, a group of Whittier professors – Tony Barnstone, Michelle Chihara, Scott Creley, Joe Donnelly, and Kate Durbin – read original published pieces in Wardman Library.