April 13, 2017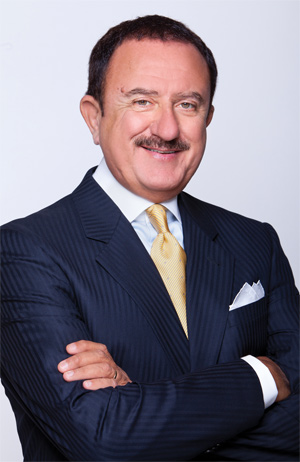 Global telecommunications, media, and cable industry expert Sol Trujillo will address Whittier College's graduating class of 2017 as the honored speaker at this year's commencement on May 12, 2017. During the ceremony, Trujillo will receive an honorary doctorate of humane letters (L.H.D.). Honorary degrees are Whittier's highest honor, reserved for individuals whose lives personify the convictions, ambitions, values, and accomplishments celebrated at the College.
A successful businessman, Trujillo has led large media companies in the United States, Europe, and Asia-Pacific regions, most recently as CEO of Telstra Corporation, Australia's largest media communications enterprise. Trujillo sits on corporate boards in the US, EU, and China – including Target and Promerica Bank of Los Angeles, where he is vice chairman; China's Silk Road Technologies, where he is chairman; and Weather Investments, headquartered in Rome with investments in Europe, the Middle East, and Africa.
"Whittier's rich diversity prepares students to lead and succeed in global economies and communities of the future, which Mr. Trujillo sees so clearly," said Whittier College President Sharon Herzberger. "It is an honor to welcome Mr. Trujillo to speak to our graduating class and share some of his knowledge and experience with them as they prepare to make their mark on the world."
Trujillo graduated from the University of Wyoming, where he earned a bachelor's degree in business and a MBA in finance. After seven years at AT&T, he became the youngest executive officer in the history of the company at the age of 32. He then went to work at US West, one of seven Bell operating companies in 1984. After 15 years with the company, he rose to the top, becoming the first US-born Hispanic to serve as CEO of a Fortune 200 corporation.
He has been a trade policy advisor to the Clinton and the second Bush administrations, a trustee of Boston College, and currently serves on the advisory board of UCLA's School of Public Policy and the Tomas Rivera Policy Institute.
In recognition of a lifetime of advocacy and commitment to workplace diversity, Trujillo received the Ronald H. Brown Corporate Bridge Builder Award from President Clinton in 1999. He was recently ranked by Hispanic Business magazine as one of the 100 Most Influential Hispanics in the U.S.