January 10, 2018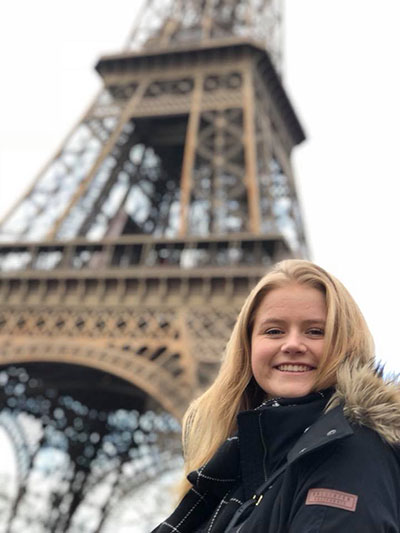 More than 120 Whittier College students will be traveling to five countries—on four different continents—to explore such wide-ranging topics as the environment, urban spaces, and the religious passion for baseball during JanTerm 2018. The two-week-long, faculty-led trips afford students enough time to immerse themselves in a culturally rich educational experience without the expense or disruption of a semester-long study abroad program.
 
Alyssa Hayne's '20 class has already left for Paris, France, to get to know the city's history, beauty, and culture on an intimate level. Beyond the City of Lights, the trip will equip students of all majors with a heightened ability to make sense of their own urban spaces and the structures that lie beneath the surface of their environment.
 
"Exploring Paris has offered me a new way of education outside of the classroom," said Hayne, whose housing in the beautiful Le Marais area of the city is within walking distance of Norte Dame, Place Bastille, and much more. "I'm so grateful to Whittier for this opportunity."
 
Her peers are taking off on their own adventures, as well.
 
Cuba: What role does religion and Cuba's passion for baseball play in the Caribbean region's history and culture? Students will explore this question at Cuban National League games, youth baseball in Havana and its surrounding cities, religious sites, beaches, and cultural centers.
 
England: In London, students will experience theatre as a visual art form that's been inspired by centuries of history, culture, and street life. Their "classrooms" will include West End theatres, museums, art galleries, and the home of William Shakespeare in the medieval market town of Stratford-upon-Avon—to name just a few destinations.
 
Brazil: From the beach town of Salvador de Bahia to bustling Rio de Janeiro, students will immerse themselves in Afro-Brazilian culture, including samba and Olodum drumming. The trip also includes a religious pilgrimage, volunteering with local non-government organizations, and—since it's summer now in the Southern Hemisphere—relaxation at Brazil's famous beaches. Swim suits were encouraged.
South Africa: The course explores the relationship between the environment, cultural diversity, and the political identities in South Africa. Through their experiences at a national park, Parliament, and many other sites, students will reflect on how they form their own political identities within a global context.
 
Several times this month, students will take over the Whittier College Snapchat account to showcase their studies abroad. Follow along by adding our username: whittiercollege.