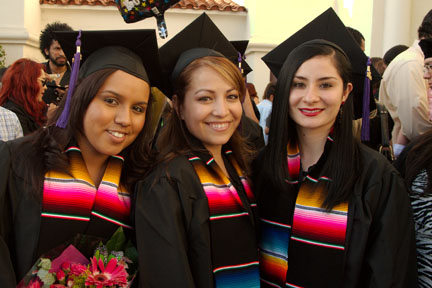 The 9th Annual Latino Graduates Celebration kicked off 2010 Commencement Week activities, with more than 50 Whittier College students donning the traditional cap-and-gown to be formally recognized by President Sharon Herzberger on the stage of the Ruth B. Shannon Center for the Performing Arts.
The event began with an Aztec ceremony by the dance group Copali Copili. While on stage, students had the opportunity to direct a few words to family and friends from a podium.
Click here to see highlights from the ceremony on YouTube.
The keynote address was delivered by well-respected immigration lawyer Alan Diamante. Diamante has devoted his career to the protection of immigrant rights and maintains a private practice in downtown Los Angeles.