June 25, 2013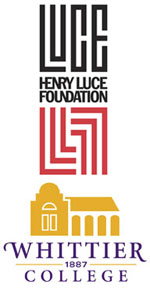 Whittier College has been awarded $50,000 from the Henry Luce Foundation to establish an exciting new program designed to explore economic development and environmental sustainability in China and its border regions.
The support from the Luce Initiative on Asian Studies and the Environment (LIASE) will help Whittier meet two main objectives: increase the capacity of faculty within the Global and Cultural Studies program to teach about critical environmentally oriented topics affecting China and the region and expand the use of such academic content across the curriculum of both the College and Whittier Law School. 
"The funding from the Luce Foundation is a great opportunity for Whittier College to unite our many environmentally oriented and Asian studies activities that are already underway within the curriculum," said President Sharon Herzberger. "Our goal with this grant is to create a program that will achieve a synergy previously not possible and thus significantly advance the education of our students on issues related to Asia and the environment – two incredibly important and growing global themes." 
Activities will be run out of Whittier's Center for Environmental Sustainability and include: new interdisciplinary course and module development; courses linked with Chinese universities; advanced language learning opportunities; faculty and student exchanges; consultation with experts from Asia and from the U.S. who specialize in the region; travel to China and Burma; the development of specific community-based learning projects in rural and urban areas in Asia; and the continued meeting of Whittier faculty's Working Group on Asian Studies and the Environment.
"LIASE is intended to challenge undergraduate institutions to create fresh entry points for engagement with Asia within and beyond the walls of the classroom," said Helena Kolenda, Program Director for Asia at the Luce Foundation. "It aims to bring Asia specialists and non-specialists together to enrich the study of the region, broaden literacy about Asia among new constituencies on college campuses, and inspire ideas for future work and study on pressing issues of the 21st century, and we are delighted to have Whittier College as a new member of the LIASE grantee network."  
Whittier's LIASE Working Group will take part in the creation of three courses—two at Whittier and one at Nanjing University Law School in China and three course modules—two taught concurrently at Whittier and at Chinese or Burmese universities, and one taught at Whittier by an instructor from Huaqiao University. These courses that will examine sustainable development in three geographic areas: Hong Kong and its environs; rural Yunnan; and Burma via a multi-disciplinary approach.
Leading this program is Whittier Professor Robert Marks, an internationally recognized scholar in this area, most recently for his book China: Its Environment and History (2012). He heads the Working Group of 15 faculty members who have come together from across a full spectrum of academic fields including environmental science and studies, modern languages and literatures, history, business, biology, chemistry, sociology, religious studies, education, film, and law.
The Henry Luce Foundation (www.hluce.org) was established in 1936 by the late Henry R. Luce, co-founder and editor-in-chief of Time Inc., to honor his parents who were missionary educators in China. The Foundation seeks to bring important ideas to the center of American life, strengthen international understanding, and foster innovation and leadership in academic, policy, religious and art communities. The Luce Foundation pursues its mission today through the following grant-making programs: American Art; East Asia; Luce Scholars; Theology; Higher Education and the Henry R. Luce Professorships; the Henry R. Luce Initiative on Religion and International Affairs; Public Policy and the Environment; and the Clare Boothe Luce Program for women in science, mathematics and engineering.
Founded by Quakers in 1887, Whittier College is an independent, four-year college offering a traditional liberal arts program integrated with both professional and pre-professional courses of study. With an emphasis on diversity, community, and curricular innovation, the College's primary mission is to endow students with the education, skills, and values appropriate for global leadership and service. Whittier College is a designated Hispanic-Serving Institution (HSI).
Whittier Law School, which is accredited by the American Bar Association and is a member of the Association of American Law Schools, is located on a separate campus in Orange County.