Whittier College welcomed more than 1,100 scholars from colleges and universities from throughout the region for the 2013 Southern California Conference for Undergraduate Research (SCCUR), Change the World: Participate, Innovate, Illuminate, this past Saturday.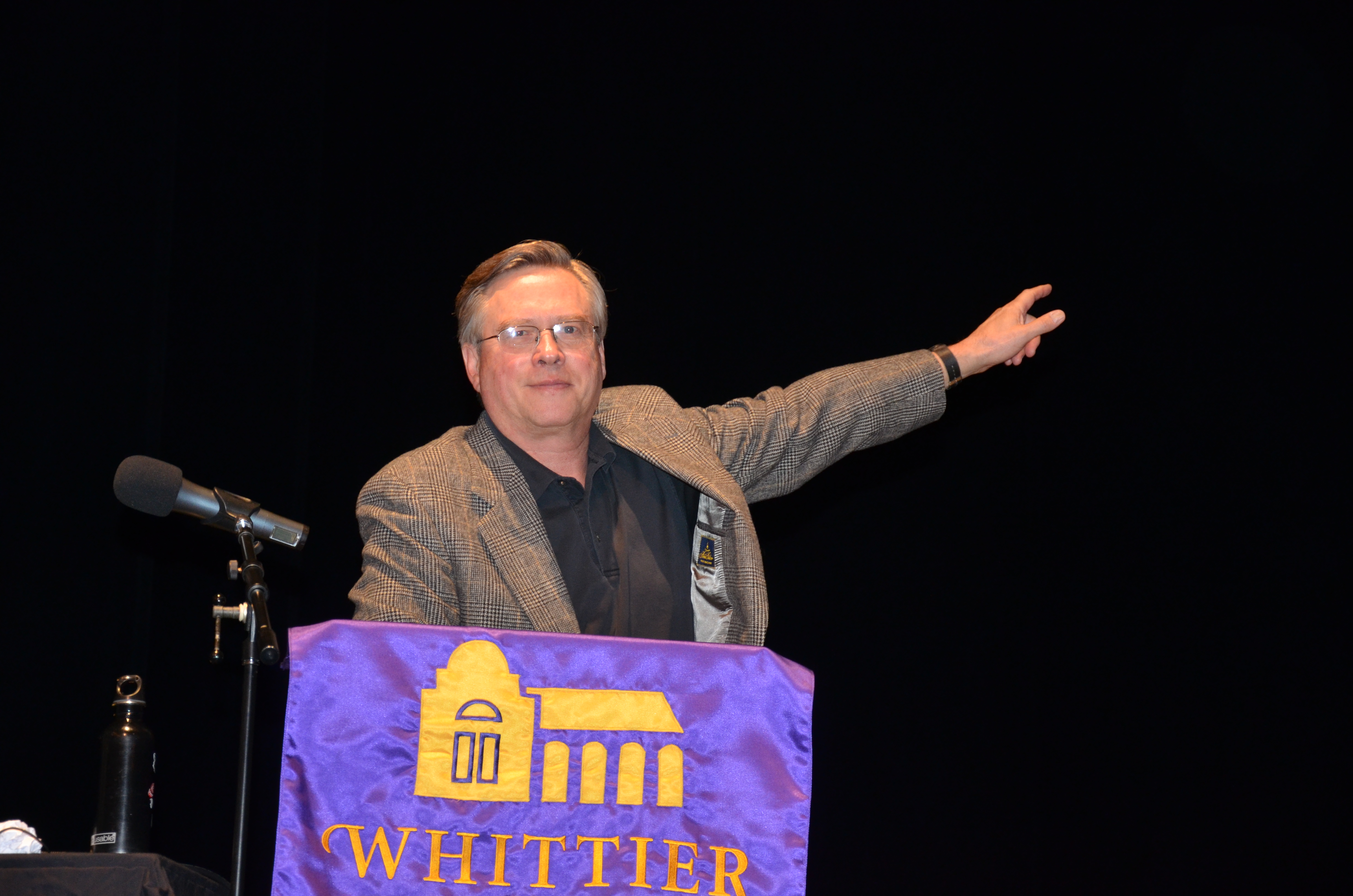 Vice President for Academic Affairs Charlotte Borst welcomed SCCUR guests during the keynote session, "We want to welcome you to a college that really values undergraduate research, it is part of our DNA; it has been for many years," said Borst. "What I am proud to see … is all of our faculty embracing this as well. Clearly this is part of what we value [at Whittier], the ability to do research outside of the classroom, to follow your passion, and … change the world."
The keynote address, China, Its Environment and History, was delivered by Whittier College History Professor Robert Marks.
SCCUR provides a forum for the presentation of the best research, scholarship, and creative activities of undergraduate students in the region, and encourages communication of innovative achievements across disciplines, including the arts, humanities, social sciences, natural sciences, and applied sciences.
More than 30 Whittier College students from a wide variety of disciplines participated in the conference. Student research topics ranged from "Commemorating the Battle of Gettysburg" to "Feminism in the News" to "Ramanujan-like Restricted  Integer Partitions Sums."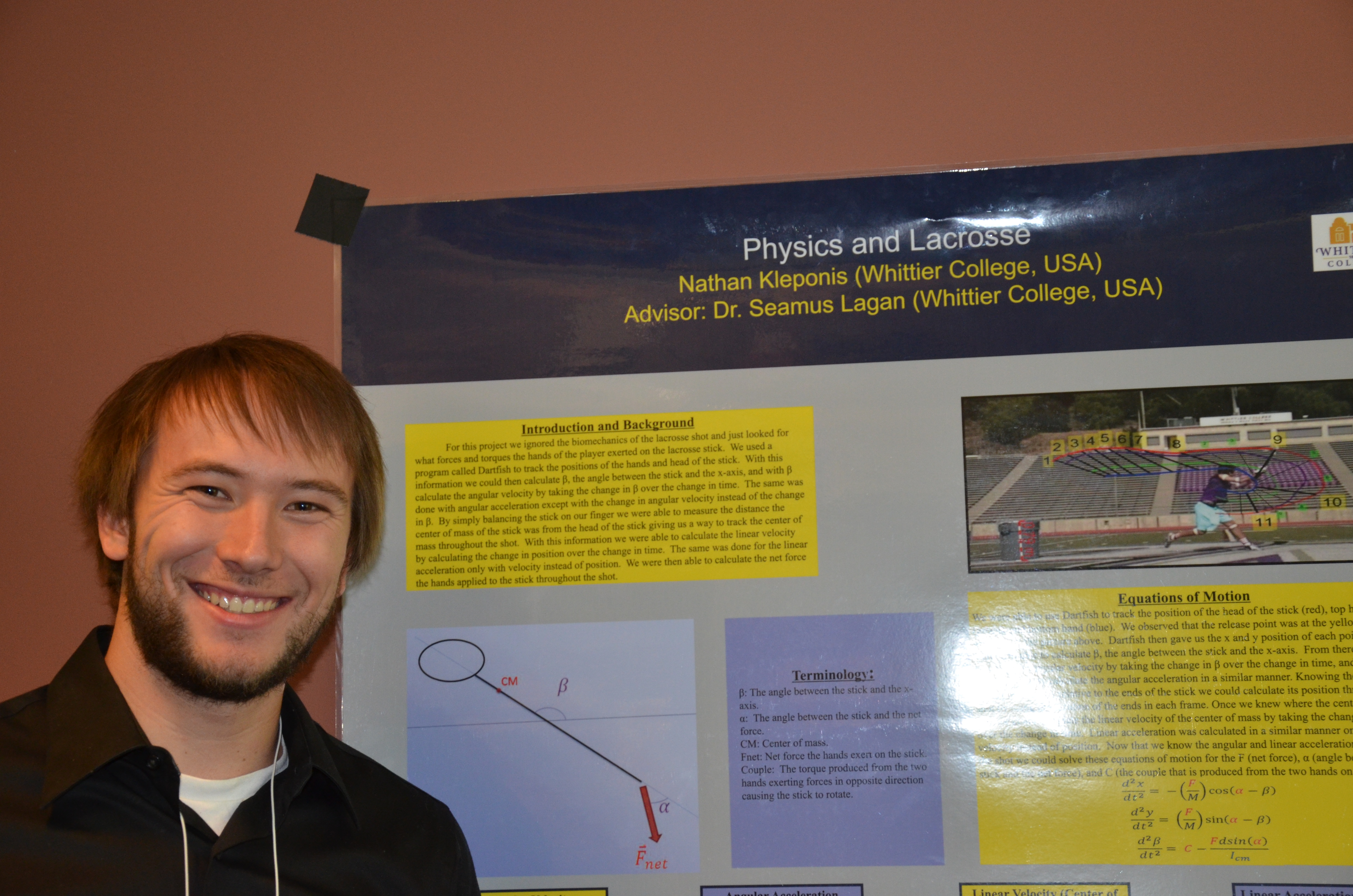 Physics major and lacrosse player Nathan Kleponis '14 combined his two passions for his research project, "Physics in Lacrosse," which took much of his summer and many hours this fall to complete.
"I was definitely nervous about presenting," said Kleponis. "I didn't know what to expect. I was scared that someone a lot smart than me was going to come by and call me out, but that didn't happen. Everybody seemed to really enjoy my poster presentation. I was able to answer everybody's questions; that was a real confidence booster."
Students present their scholarly work either in 15-minute seminar presentations chaired by faculty moderators, in poster sessions, or in exhibition or performance.
Other participating schools include USC, Pomona College, Mount St. Mary's College, Azusa Pacific University, University of Redlands, Pepperdine University, California Institute of Technology, California Lutheran University, CSU Fullerton, Dominguez Hills, Los Angeles, and Long Beach; University of California Los Angeles, Irvine, Riverside, and San Diego; among many others.
"The event exceeded expectations," said Professor of Political Science Joyce Kaufman, conference co-organizer. "We were hoping to meet the standards of last year's conference and we've exceeded it. We're a small campus and everyone pulled together. It's been an excellent opportunity show off what we can do."
Take an inside look at SCURR 2013 in this Facebook photo album: http://on.fb.me/1aRr3DJ.
Reporting and photography by Elizabeth Cook '14, Hallie Gayle '15, and Danielle Kwasniowski '14.