June 15, 2015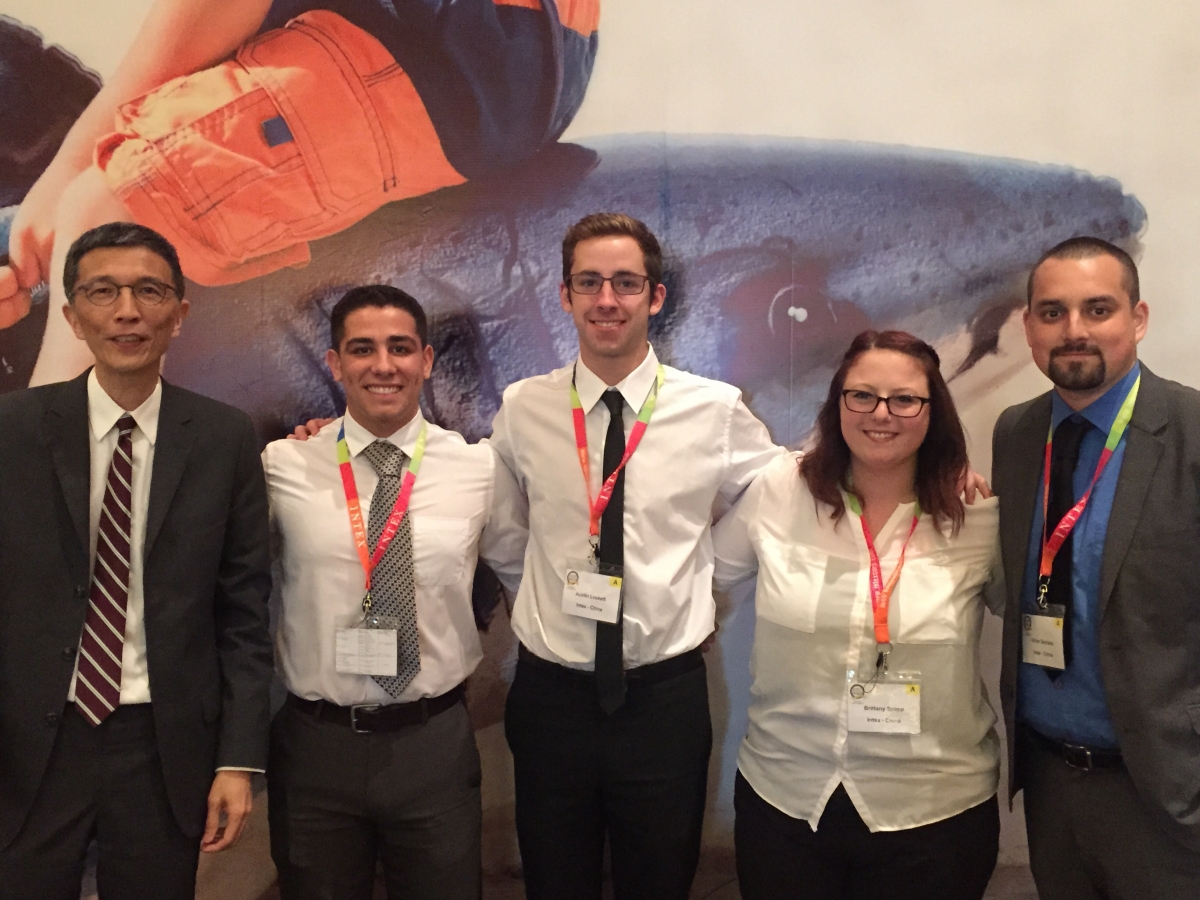 Three Whittier College students are spending eight weeks in Xiamen, China this summer interning at Intex, one of China's major manufacturers and Walmart's Vendor of the Year. Austin Luckett '16, Brittany Snapp '16, and Hector Wong '16 make up Whittier College's first cohort to participate in the Intex Fellowship where they will learn about international business, customer service, inventory forecast, employee training, and how to collaborate with Chinese employees.
For this practicum, Poets had to demonstrate a desire to learn about Chinese culture and business practices, and an enthusiasm for sharing positive elements of American culture with Chinese counterparts. And they're doing just that.
Luckett, Snapp, and Wong have participated in the company's international sales meeting, which is held annually in Xiamen, and have also created international product repair training videos for Intex employees. The students are also employed in the call center during the graveyard shift where they answer consumer phone calls and help train other interns who are Chinese natives studying English.
"Recently I began an additional rotation in the inventory and forecasting departments. For this part of the internship I am organizing and analyzing different sets of data to find potential buying and shipping patterns," said Luckett, who hails from Great Falls, Montana.
Snapp, who spent JanTerm in China with Professor Lana Nino earlier this year, was hooked, applied for the Intex Fellowship, and returned to China to receive more practical and global experience. "After college, I would love to come back to China and travel more. So far, I love what Intex is doing with sales, QC, and forecasting," said the Southern California native. 
"Everything I have experienced up to this point has reaffirmed my ambition to work internationally, preferably in China," said Luckett.  "My dream is to continue working at an international level, so that I can continue to embrace all of the world's diverse cultures."
The President of Intex and alumnus Tien Zee '61 has been instrumental in making this opportunity a reality for Whittier College students.
"Our students will be learning a great deal and I expect that this will change their lives for the better in so many ways, said Professor of Business and Intex Fellowship Advisor Jeff Decker. "We are counting on this being the first of many waves of Whittier College students to have this opportunity."
Snapp says she's had an extremely positive learning experience working with peers who are from China and are studying English. She added that all of the workers around the Intex campus have been friendly and welcoming.
"I do not speak Chinese and it is not currently needed for my internship, but since I have been exposed to the culture and seeing Austin and Hector studying Chinese, I have really started to think about taking a class when I am back at Whittier," said Snapp.