What To Bring
On
6 May, 2013
By
admin
0 Comments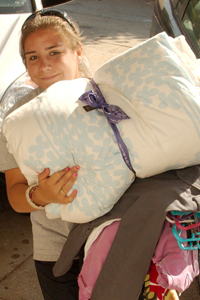 The residential life office has created a list of essential and suggested items to make the transition to living on campus as smooth as possible.
See the list below, or download the list as a PDF.
Items supplied in all residence halls
Bed frame/mattress (twin extra-long)
Dresser
Closet
Desk
Desk Chair
Essential items to bring with you
Linens, twin extra-long (Learn how you can order your linens.)
Towels
Pillows
Blankets
Desk Lamp (note: halogen lamps are prohibited)
Decorative items to make your room your home
Alarm Clock
Personal emergency kit (flashlight, batteries, First Aid kit)
Personal medications/prescriptions
Clothes hangers
Fan (Please note that not all residence halls are air conditioned; these include Ball, Stauffer, Johnson, Wanberg and Wardman Halls.)
Personal care products
Shower shoes
Shower caddy
Laundry basket
Laundry detergent
Money to open a local checking or savings account
Suggested items to bring with you
Computer
Printer
Flashdrive
UL-approved power surge protector
Sewing kit
Clothes drying rack
Iron
Small ironing board
Desktop fan
Small tool kit
Personal entertainment devices (small television, stereo, gaming device)
Corded telephone (in case of power outage)
Refrigerator (must not exceed 6 cubic feet)
Lockbox for personal medication and valuables
Prohibited Items
Toasters
Electric skillets
Electric grills
Ovens
Hot plates
Waterbeds
Candles
Incense
Halogen lamps
Sunlamps
Personal Property Insurance
If you choose to keep valuable personal items at the College, make sure the items are insured. Whittier College assumes no responsibility for loss of property due to theft, therefore, you are encouraged to purchase your own personal property insurance, or check to see if you are insured through your parents' homeowners' insurance. Remember to keep your room door locked at all times. Campus Safety provides engraving for personal items.