Stauffer Hall
On
6 May, 2013
By
admin
0 Comments
Stauffer Hall is co-educational and houses 210 students in Living Learning Communities (LLC). The first-year LLCs are meeting places for students to come together and collaboratively construct new ideas, traditions, and experiences. They are designed to help students succeed through their first year at Whittier College and beyond. These communities foster social well-being, academic enrichment, and individual growth, by providing each student with a sense of belonging on campus.
Stauffer Hall double rooms are 13.6' x 14'. The recreational room includes a fireplace, ping pong table, foosball table. Recent renovations in Stauffer Hall include laundry room and bathroom improvements, furniture upgrades in all main lounges, construction of new classrooms, and installation of wireless Internet.  Stauffer Hall also has a brand new Fitness Room with multiple cardio machines and medicine balls. Eco-friendly elements include water-saving toilets, low-flow shower heads, energy-saving light bulbs, and each hall has its own recycling bins.
History
Stauffer Hall first opened in fall 1962 as an all women's dorm.
---
Resident Advisors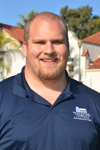 Name: Timothy St. Marie '15
Major: History
Hometown: Mill Creek, WA
Activities: Track and Field, FCA
Hobbies: Sports, Video Games, Reading
After College, I want to be: A Principal of a high school.
My favorite thing in the world is: My family with my three brothers.
My best Whittier College experience has been:  When I went to a Whittier basketball game in nothing but body paint and spandex shorts.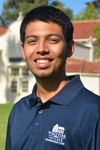 Name: Manuel Escalante '17
Major: Physics-Engineering
 Hometown: La Puente, CA
Activities: Brass Orchestra, Choir, Improv
Hobbies: Cooking, Singing, Backpacking
After College, I want to be: Aerospace Engineer for the US Airforce
My Favorite thing in the world is: Homemade Philly Cheese-steaks, with extra cheese.
A quirky fact about me is: My Great Grandfather established a successful circus in the 1920's, called the Escalante Circus.
I hope this fine institution and I may provide you with a plethora of opportunities. Feel free to take as many as you would like.
Name: Amer Rashid '17
Major/Minor: Political Science/ Global Cultural Studies
Hometown: Fresno, CA
Activities: Student Ambassador, Member of the William Penn Society, and Campus Relations Director of ASWC Senate
Hobbies: reading, writing, going out with friends
After College, I want to be: An ambassador of the UN or the Department of State
A quirky fact about me is: I speak three languages
My best Whittier College experience has been: When our freshman link courses went and had dinner with our professors.
 I'm so excited for you all to begin your amazing experience at Whittier College!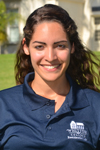 Name : Vicki Mercado '15
 Major/Minor: Biology/Psychology 
Hometown:  Brooklyn, New York
Activities: Tutor,student lead at Phonathon, volunteer at St.Francis Hospital as a clinical care extender, member of Students for Community Medicine club, intramural Sports, research on campus.
Hobbies: Playing basketball, reading, hiking, spending time with my loved ones.
After College, I want to be: A physician-investigator
My best Whittier College experience has been: Connecting with faculty who have been able to help me reach for opportunities in the field I am interested in, as well as meeting some amazing life-long friends.
My favorite thing in the world is: My poodle. 
 Hi Everyone! I am Vicki and I will be your 2nd floor Stauffer RA. I grew up in Brooklyn, New York (but no, I don't have that flashy New York accent). I am very excited to meet you all and help you along your journey. If you ever have any questions, or just want to chat, feel free to stop by!
Name : Aimme Real Arrayga '16
 Major: Political Science/Global and Cultural Studies Biology
Hometown: Arizona
Activities: C.E.C Intern and Thalian Society
My favorite thing in the world is: My husky Luke 
Welcome message: Hello lovely residents! My name is Aimme and I am really excited to meet you all and I'm sure there are great things in store for us this year! If you ever have questions or just want to chat feel free to stop by!
Name: Sarah Meuwissen '16
Major/Minor: Biology/ Psychology
Hometown: Portland, OR
Activities: ASWC Senate: Student body Representative, Program board: Special events director, Undergraduate research assistant, CIA member, intramurals, Psych Club and a Thalian Society member.
Hobbies: Reading, painting, hiking, and listening to music.
After college, I want to be:  Joining the Peace Corps and eventually go to medical school 
My favorite thing in the world is:  My dog Dawson!
Hi, everyone! My name is Sarah Meuwissen. I'll be serving as one of the Stauffer Hall RAs for this academic year. I look forward to meeting you and guiding you in your first year as an undergraduate student. My door is always open so please stop by and say hello!