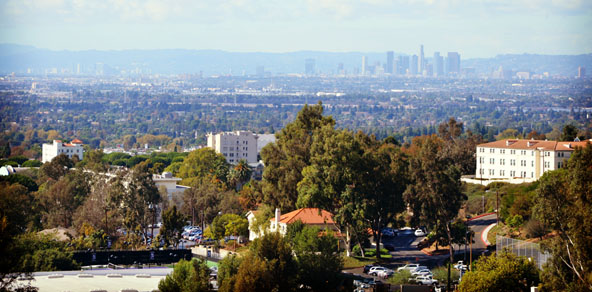 The Los Angeles area (the five-county metropolitan area composed of Los Angeles, Orange, Riverside, San Bernardino, and Ventura Counties) is the 11th-largest economy in the world and, as such, has much to offer.
Los Angeles County, in which Whittier College falls, has the largest population of any county in the nation, and a larger population than 42 states. Los Angeles is the second largest city in the country in terms of population, and one of the most ethnically diverse cities in the world.
L.A. leads California's cultural growth and has more museums per capita than any other city in the United States. Every major auto manufacturer has a design studio or presence in Los Angeles, and it remains a world leader in the toy and apparel industries. L.A. is now the largest international trade center in the U.S. In addition, biotechnology is one of the fastest growing industries in the county. And the field that has defined our popular culture, the film and television industry, claims Los Angeles as its seat, with the majority of the major studios and production companies headquartered in its environs.
Because of this close proximity to the state's economic center, many Whittier College students have access to internships across a variety of fields, and for those who want to start their careers in L.A., opportunity abounds. Many of our professors incorporate the area into their research interests and coursework, inlcluding students in both fieldwork and data collection and analysis. A number of our fine arts faculty are themselves working artists, playing music, creating sets, and exhibiting their portfolios locally in some of the best-known venues in the country. And many academic courses offered during during the year use the backdrop of Los Angeles' history, politics, cultural evolution, architecture, and even terrain to contextually explore subject matter.
Whittier's students, faculty, and staff take full advantage of all that the area has to offer, and available to all interested students is an "Exploring Los Angeles" activities series coordinated by the Office of Student Activities, which includes trips to museums, parks, and cultural events all over Southern California. For the more adventurous and independent explorer, Whittier's location provides a central location to numerous destinations, and the options range from leisurely browsing the shops on Old Town Pasadena's Colorado Boulevard, on famous Rodeo Drive in Beverly Hills, or on historic Olvera Street in downtown L.A., to rollerblading or biking at Venice Beach or in Malibu, to taking in professional theater at South Coast Repertory in Costa Mesa or at the Dorothy Chandler Pavilion at L.A.'s Music Center, to snowboarding at nearby Big Bear Lake or camping in Joshua Tree or the Anza-Borrego Desert.