The Office of Institutional Research and Assessment (OIRA) supports the mission and strategic values of the college through a culture of evidence-based planning.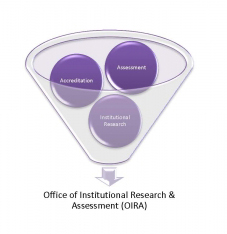 The mission of the OIRA is threefold:
To provide timely, accurate, and unbiased data and analysis a) to support strategic planning and organizational effectiveness initiatives of the College and b) to meet external reporting obligations.
To facilitate the assessment work of faculty, administrators, and the board for the achievement of student learning outcomes and institutional effectiveness.
To advocate for the quality, integrity, and appropriate use of College data.