English Language and Literature majors have rich opportunities to explore their studies hands-on, both abroad and in the classroom.
Study Abroad in England
During JanTerm, Whittier students can explore Geoffrey Chaucer's massively influential Canterbury Tales by journeying through the bustling streets of London and the villages of the English countryside, including historic Canterbury.
Professor Sean Morris leads Whittier students on the trip to discover how text and history overlap. Students get to know the real places and people that inspired Chaucer's story, such as through a scavenger hunt in the historic English cathedral city of Canterbury.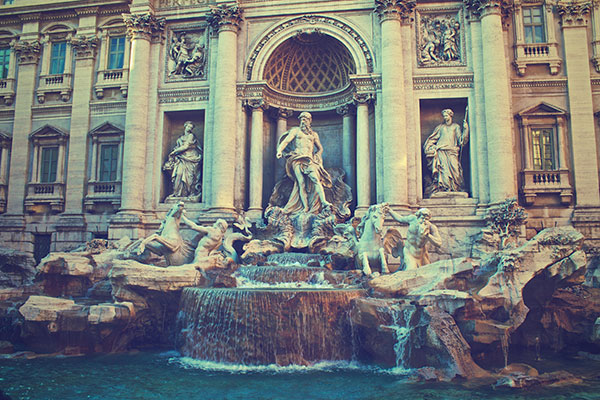 Travel to Greece and Rome
On her study abroad JanTerm trip to Greece and Rome, Professor Wendy Furman-Adams helps students engage with a history as turbulent as modern day.
Among the temples, statues, marketplaces, theatres, and homes of classical Greece and Rome, students explore how some of the world's most remarkable writers—Homer, Plato, and Virgil, to name a few—sought wisdom and solace in works that still possess edge and relevance.
Moving to the Front of the Class
Advanced English majors who are interested in teaching, whether at the high school level or in higher education, can get involved in a preceptorship, a kind of internship (or at least an apprenticeship) in teaching literature. Normally, these opportunities are offered in lower division English courses.
Preceptors attend class regularly, read for each class session, and model appropriate student discussion. They also hold office hours to help students understand the material and provide assistance with their papers for the course. Sometimes they offer, or help with, review sessions before major exams.
Most preceptors meet regularly with the professor to talk about the course, sometimes help plan the syllabus, and will plan and conduct at least one class session with the professor present. While professors are responsible for assigning the final grade, preceptors read and comment on student work.
For more information, contact the department at 562.907.4253.
To learn more about studying abroad, contact the Office of International Programs.
To learn more about internship and other professional opportunities, contact the Weingart Center for Career and Professional Development.