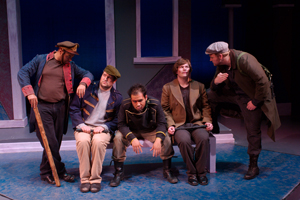 Our curtain rises to welcome you to the Department of Theatre and Communication Arts at Whittier College.
Located 23 miles from the heart of downtown Los Angeles' arts district, the Theatre Department strives to provide a balanced preparatory foundation, exposing students to multiple approaches and applications of theatre—all of which is firmly based in the liberal arts tradition.
Students majoring within the department follow a program of study designed to stimulate awareness of our cultural traditions and to explore the creative abilities of each individual. We provide courses in the areas of performance, directing, theatre history and dramatic literature, and stage design and technology. We also offer classes in speech communication, film history and criticism, and video production.
Contact
Department of Theatre & Communication Arts
Shannon Center
562.907.4202
562.698.4902 (fax)
At Whittier
As part of a liberal arts institution, the Department of Theatre and Communication Arts focuses on providing both breadth and depth in the field, encouraging students to develop interdisciplinary connections, to demonstrate the collaborative nature of this discipline, and to articulate their own critical presentation of theatre as both an artistic art form and as a cultural artifact.
Department goals include:
Developing students through a series of progressive steps in both scholarship and creative engagement.
Requiring the collaborative experience of working with others as theatre practitioners.
Contextualizing theatre as an interdisciplinary and multi-disciplinary art form, connecting to the visual arts, history, politics, psychology, sociology, philosophy, religious ideologies, and technology.
Analyzing the context of historical theatrical influences and the interconnectedness of movements throughout history.
Synthesizing the interconnection between form, interpretation, and audience.
Articulating theatrical practices via cultural, sociological, and psychological lenses.
Presenting a final public creative or scholarly project with an accompanying historical, theoretical, and/or self-reflective paper.
 
Each year, the department produces up to four faculty directed productions in the Ruth B. Shannon Center for the Performing Arts. Productions afford students multiple opportunities to engage in theatre as a collaborative process  - as a performer, stage manager, assistant stage manager, etc., or as a member of various construction and running crews.
Graduating majors from the theatre program have the tools to pursue a professional career, graduate studies, or continue their path as lifelong appreciators of the theatrical arts. Recent graduates have found that their education in the department has prepared them for careers in personnel, education, sales and advertising, business, law, and publishing, as well as acting, directing, design and technical direction, writing, film, television, and the themed entertainment industry.