Whittier operates local chapters of national honorary academic and leadership societies.Members of these organizations are selected based on criteria such as grade point average, and, in general, exhibit a keen dedication to scholarship, service, and leadership.
Alpha Psi Omega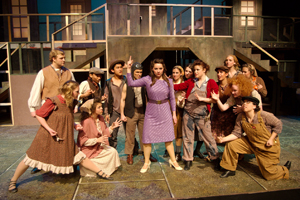 Alpha Psi Omega is a national honorary society for dramatic arts. It began in the early 20th century as result of the growing interest in dramatic arts among colleges and universities throughout America. Several honor societies in this discipline began to form around 1920 to recognize and reward students participating in theatrical productions. The first society, Alpha Psi Omega, was founded at the Fairmont State College in West Virginia in 1925. The Masquers, the original name of the group, began around 1921 performing about four to five productions annually for both students and the public. The Masquers thought about creating a national honor society in dramatics to reward members for their work. Elinor B. Watson, Robert Sloan, and Paul F. Opp, who were the members of the national committee, drafted the constitution for Alpha Psi Omega. On August 12, 1925, members of Masquers, who met the qualifications stated in the constitution, adopted the constitution and changed their name to Alpha Psi Omega. It was decided that each chapter would be called a "cast". Whittier College's cast name is Pi Mu. "Playbill" was accepted as the title of the national magazine. In the first couple of years of Alpha Psi Omega, the twenty chapters met every five years at "Grand Rehearsals", national conferences, which are now held annually at the Southeastern Theatre Conference. There are now over 550 chapters in America making up Alpha Psi Omega, one of the largest national honor society in America.
For information on joining Alpha Psi Omega contact faculty advisors Jennifer Holmes and Gil Gonzalez at apo@poets.whittier.edu.