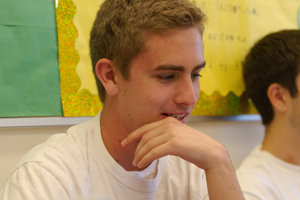 The interdisciplinary program involving mathematics and business administration provides a strong background of concepts and techniques in the field of "quantitative management."
It prepares the student for a variety of positions in banking, insurance, manufacturing, transportation, and other industries. Such positions are frequently in staff areas involving the application of quantitative methods to decision-making situations—for example, sales forecasting, demographic analysis, personnel planning, financial control, and operational analysis. This program also prepares the student for pursuing post-graduate work in the field of applied mathematics and operations research.
This interdisciplinary program is offered as a major only; there is no mathematics-business minor offered at this time.
Students should begin the calculus sequence as early as possible in their college career and should consult with their faculty advisor in selecting courses from the elective and recommended categories.
I. Mathematics:
Calculus and Analytic Geometry, MATH 141A or 139AB, 141B, and 241, (12-15 credits)
Abstract Thinking, MATH 280 (3 credits)
Probability and Statistics, MATH 315 (3 credits)
Numerical Analysis, MATH 350 (3 credits)
Mathematical Modeling, MATH 354 (3 credits)
Linear Algebra, MATH 380 (3 credits)
II. One of the following:
Programming I, COSC 120 (3 credits)
Programming II, COSC 220 (3 credits)
III. Business Administration and Economics:
Principles of Economics: Macroeconomics, ECON 200 (3 credits)
Principles of Accounting I, II, BSAD 201, 202 (6 credits)
Business Finance I, BSAD 310 (3 credits)
Marketing Principles, BSAD 320 (3 credits)
Management and Organizational Behavior, BSAD 330 (3 credits)
Management Information Systems, BSAD 341 (3 credits)
International Business, BSAD 350 (3 credits)
​IV. Capstone Requirement:
Senior Seminar, MATH 491A,B (4 credits), or
Management Strategy and Policy, BSAD 489 (3 credits)
Electives are optional, but highly recommended. Students should confer with their faculty advisors to select appropriate elective courses.
Principles of Economics: Microeconomics, ECON 201 (3 credits)
Introduction to Econometrics, ECON 305 (3 credits)
Managerial Economics, ECON 365 (3 credits)
Business Finance II, BSAD 411 (3 credits)
Management Strategy and Policy, BSAD 489 (3 credits)
For more information about the Mathematics-Business major, please contact the program advisor.
Program Advisor
Fredrick Park
Professor of Mathematics
Wardman Hall 207
562.907.4880
fepark@whittier.edu