Contact the Counseling Center
Haverhill A (next to Campus Safety)
562.907.4239
562.907.4218 (fax)
counselingcenter@whittier.edu
Hours of Operation
Monday - Thursday, 8 a.m. - 5 p.m.
Friday, 8 a.m. - 3 p.m.
Closed daily from noon - 1 p.m.
If you are in need of support, please refer to our list of recommended resources. To find a therapist with your insurance, visit Thriving Campus and follow the locator services.
For emergencies, call Campus Safety at 562.907.4211 and ask to be connected to an on-call therapist. If you require emergency mental health services, please call 911, go to your nearest hospital emergency room, or call The National Suicide Prevention Lifeline at 800.273.8255.
Professional counseling staff is on call 24 hours a day, seven days a week.
Staff
Rebecca Eberle-Romberger, Psy.D.
Licensed Psychologist
Director
Student Counseling Center
Dr. Rebecca Romberger has been a California Licensed Psychologist for more than two decades. Born and raised in central Pennsylvania, she received her Doctoral degree in psychology from Indiana University of Pennsylvania. She relocated to California to complete an APA-accredited internship with Kaiser Permanente in Health Psychology, followed by a post-doctoral fellowship at Children's Hospital of Orange County (CHOC), where she worked with children suffering from cancer and blood disorders, specializing in the psychological aspects of oncology. After several years in private practice, Dr. Romberger was appointed Executive Director of a local non-profit mental health clinic, while also serving as an adjunct clinical supervisor to Whittier College Counseling Center staff. She was selected as the Counseling Center Director/Clinical Training Director in 2009.
As the mother of two Whittier College graduates, Dr. Romberger understands the challenges students and families face while transitioning to college life. She and her staff provide services that support students in coping with everyday hassles as well as more significant life events. She believes it is an honor to accompany students on the journey of transformation, developing skills, and acquiring knowledge as they move toward graduation, career, and a fulfilling life beyond Whittier.
Dr. Romberger holds memberships in the American Psychological Association, the California Psychological Association, and the Organization of Counseling Center Directors in Higher Education. She serves on the Board of CAPIC (California Psychology Internship Council), representing internship sites across Southern California. She has served as adjunct faculty at the University of Southern California (Rossier School of Education), the University of La Verne, and the Fuller Theological Seminary, School of Psychology. She enjoys supervising graduate psychology students to develop the competent, confident, and professional therapists of tomorrow while supporting the growth and development of Whittier College undergraduate students.
Alyssa Jupiter, M.A.
Practicum Trainee
Alyssa (she/her/hers) is in the third year of her Clinical Psychology doctoral program. She identifies as a Black woman and is passionate about decreasing the stigma around mental health care in communities of color. Throughout her training, Alyssa has provided culturally informed care to a diverse set of clients, including couples, children, LGBTQ+ identifying individuals, and BIPOC students. Alyssa seeks to understand each of her clients' unique experiences and perspectives. Alongside addressing clinical concerns such as anxiety and depression, she recognizes the importance of exploring personal passions, nurturing relationships, and enhancing self-care practices.
As a member of the counseling team, Alyssa is committed to tailoring treatment to suit each client's unique needs, strengths, and values. She hopes to join students as they navigate the challenges that the undergraduate experience can bring.
In her free time, Alyssa enjoys caring for her (many) pets, going to concerts, and spending time in the sun. 
Martin Lee, M.A.
Practicum Trainee 
Martin is in the fifth year of his Ph.D. program in clinical psychology at Fuller Graduate School of Psychology. He completed a Master's degree in 2021 and has clinical experience working with children, families, teenagers, young adults, and adults with challenges such as depression, anxiety, adjustment difficulty, acculturation, trauma, gender identity, and relational issues. Martin has a passion for providing support to college students as they transition into adulthood, while also facing mental health challenges. Martin works with students from a strength-based, solution-focused, and experiential approach.
Being an international student himself, Martin is sensitive to international students' unique implicit and explicit stressors. He recognizes the challenges they may encounter as well as the impact of cultures on students' daily lives. Martin's research interests lie in the areas of self-compassion, mindfulness, and religion/spirituality.
In his free time, he loves to cook, eat, and picnic with his beloved family. 
Prisca Oh, M.A. 
Practicum Trainee
Prisca (she/her/hers) is a third-year doctoral/Psy.D. student at Biola University, where she also previously completed her Master's degree in Clinical Psychology. Prisca grew up in a Korean household. She lived in Israel and immigrated to the U.S. as a child. She understands the challenges and blessings of being an immigrant, coming from a multicultural background, and holding the tension of different cultural values and beliefs. As an Asian American woman, she is passionate about providing culturally informed care and coming alongside clients in their complexities. Throughout her training, she has cherished her experiences of providing therapy for children, teenagers, and adults from a diverse range of backgrounds as well as in multiple countries. She enjoys working from a psychodynamic and client-centered approach and readily integrates a holistic view of care in therapy.
As a member of the Student Counseling Center team at Whittier College, Prisca is committed to listening and learning from each client's unique perspective. She is excited about walking alongside each client as they navigate through various challenges and stages of life. Prisca hopes to create a safe space for all students to be heard, seen and understood.
Outside of the office, Prisca enjoys exploring coffee shops and boba shops, camping, and catching sunsets.
Yurguen Gonzalez, M.A.
Practicum Trainee
Yurguen is in the last year of his Doctoral studies at California Baptist University, where he will receive a Doctorate in Clinical Psychology once he completes a full-time internship. He holds a Master of Arts degree in Clinical Psychology and a Master's degree in Education, with an emphasis in Leadership in Higher Education from the University of Washington. He completed his Bachelor of Arts in Psychology and Sociology at UC Riverside. Yurguen has enjoyed his work thus far with young adults in the higher education setting, transitional-age youth preparing for adulthood, and conducting psychological assessments for learning disabilities in children. 
Before joining the Clinical Psychology field, Yurguen's work on college campuses included staffing in Residential Life, Student Activities, Student Life, and Governance. He is passionate about supporting first-year, first-generation students from marginalized identities in their academic pursuits and promoting student engagement. Being a first-generation Latinx student, Yurguen brings his understanding of the personal challenges of marginalized students in higher education, noting that each student's experience is unique. 
In his free time, Yurguen enjoys finding, tasting, and rating new boba shops, in addition to practicing photography.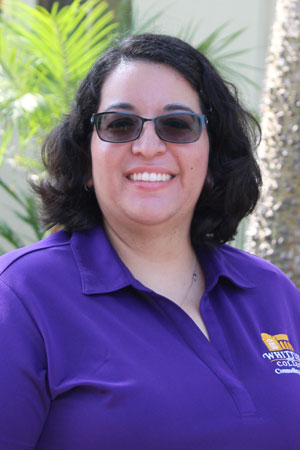 Danielle Morales
Program Assistant
Danielle graduated from California State Dominguez Hills where she received her Bachelor's Degree in English Literature. She joined the Counseling Center staff as the Program Assistant in December 2019 and it brings her great joy to be able to help students, staff, and faculty in any way she can as an office administrator. Danielle is the first face or voice you will see/hear when contacting the Counseling Center and is always willing to help in any way she can.
In her downtime, Danielle enjoys reading, writing, and playing video games to relax and decompress after a long rewarding day.