Haverhill A (next to Campus Safety)
562.907.4239
562.907.4218 (fax)
counselingcenter@whittier.edu
Hours of Operation
Monday - Friday, 8:00 a.m. - 5:00 p.m.
Closed daily from noon – 1 p.m.
Professional counseling staff is on call 24 hours a day, seven days a week.
For after hour advice, call the After-Hour RN Telephone Advice Line at 562.464.4548.  This service is NOT for life-threatening Emergencies.  
For emergencies, call Campus Safety at 562.907.4211 and ask to be connected to an on-call therapist.
Staff
Rebecca Eberle-Romberger, Psy.D.
Licensed Psychologist
Director
Student Counseling Center
Dr. Rebecca Romberger has been a California Licensed Psychologist for more than two decades. Born and raised in central Pennsylvania, she received her Doctoral degree in psychology from Indiana University of Pennsylvania. She relocated to California to complete an APA accredited internship with Kaiser Permanente in Health Psychology, followed by a post-doctoral fellowship at Children's Hospital of Orange County (CHOC), where she worked with children suffering with cancer and blood disorders, specializing in the psychological aspects of oncology. After several years in private practice, Dr. Romberger was appointed Executive Director of a local non-profit mental health clinic, while also serving as an adjunct clinical supervisor to Whittier College Counseling Center staff. She was selected as the Counseling Center Director/Clinical Training Director in 2009.
As the mother of two Whittier College graduates, Dr. Romberger understands the challenges students and families face while transitioning to college life. She and her staff provide services that support students in coping with everyday hassles as well as more significant life events. She believes it is an honor to accompany students on the journey of transformation, developing skills and acquiring knowledge as they move toward graduation, career, and a fulfilling life beyond Whittier.
Dr. Romberger holds memberships in the American Psychological Association, the California Psychological Association and the Organization of Counseling Center Directors in Higher Education. She serves on the Board of CAPIC (California Psychology Internship Council), representing internship sites across Southern California. She has served as adjunct faculty at the University of Southern California (Rossier School of Education), the University of La Verne and the Fuller Theological Seminary, School of Psychology. She enjoys supervising graduate psychology students to develop the competent, confident, and professional therapists of tomorrow, while supporting the growth and development of Whittier College undergraduate students.
Stephanie Smolinski, Psy.D.
Licensed Psychologist
Assistant Director
Dr. Stephanie Smolinski is a licensed clinical psychologist who received her doctorate from Fuller Theological Seminary's School of Psychology and her master's from Pepperdine University. Stephanie returned to the Whittier Student Counseling Center as the Assistant Director after completing four years of training at the College. She is passionate about helping college-aged students increase their overall well-being and has enjoyed working with students from both Whittier College and Otis College of Art & Design who are dealing with issues such as anxiety, depression, adjustment, identity development, substance abuse, and self-harm. Prior to coming to Whittier, Stephanie had a wide-range of clinical experiences with clients of all ages and cultural backgrounds in settings such as an elementary school and a community mental health clinic. In addition, she has conducted research on a variety of topics including the utility of computer-based interventions for attention and concentration issues, gender differences in visuospatial skills, and the use of virtual humans in assessing trauma in military veterans. Dr. Smolinski's doctoral dissertation, "Nonsuicidal Self-Injury and Motivational Interviewing in a College Counseling Center," allowed her to combine her interest in college mental health with her desire to increase treatment efficacy.  
David B. Light
Board Certified Psychiatric Mental Health Nurse Practitioner
As an advanced practice registered nurse trained to provide a wide range of mental health services, Mr. Light assesses and treats adult patients who have a diverse range of psychiatric issues.
Mr. Light is a graduate of California State University, Los Angeles and has practiced in a variety of clinical settings including county clinics, skilled nursing/ assisted living facilities, and outpatient settings such as Whittier College's Student Counseling Center. Mr. Light's practice is focused upon psychiatric medication management. Specialties include mood, anxiety, and psychotic disorders, as well as ADD/ADHD. Mr. Light believes in fostering a collaborative partnership with clients, focused on their care and treatment. Originally from Virginia, Mr. Light relocated to California in 2007. In his free time, Mr. Light enjoys reading and traveling, as well as following the ups-and-downs of his favorite baseball team, the Atlanta Braves.
Carmela Nevarez '17
Program Assistant
Carmela Nevarez is excited to join the Whittier College Student Counseling Center team as the program assistant. However, she is not new to working on campus as she previously worked for Campus Safety as a dispatcher. Carmela is a proud Poet alumna, having recently graduated from Whittier College with her Bachelor of Arts in Spanish and Sociology. This fall she will return to school to earn her Masters in Educational Counseling with hopes of one day working with high school students. In addition to making the Counseling Center a comfortable and welcoming environment for students, Carmela will bring her enthusiasm and creativity to her role overseeing the Wellness Coalition in collaboration with the Student Health and Wellness Center. Although Carmela has a busy schedule, she loves to spend time with her family and enjoys being outdoors in her free time.
Kendall Robins, Psy. D.
Post-Doctoral Counselor
Dr. Kendall Robins is happy to be back in the Counseling Center this year as a postdoctoral fellow and the coordinator of outreach services. She recently graduated from Rosemead School of Psychology with her Psy.D. in Clinical Psychology. In addition to serving at the WCSCC two years ago as a practicum trainee, Kendall has had numerous other experiences working in university counseling settings providing therapy, outreach, and educational services in order to help students pursue their personal and educational goals, even in the midst of challenges and obstacles that arise in the process. Kendall has particularly enjoyed working with students navigating complex cultural and intersectional identities (particularly international students and Third Culture Kids (TCKs)), students who are coping with traumatic experiences, and students experiencing relational difficulties and grief. Her graduate research and doctoral paper explored the use of multidisciplinary therapies and group therapies in the recovery of female survivors of sexual trauma and trafficking. Additionally, she volunteers during the summers with a local nonprofit organization to work with TCKs who are transitioning back into the States for university.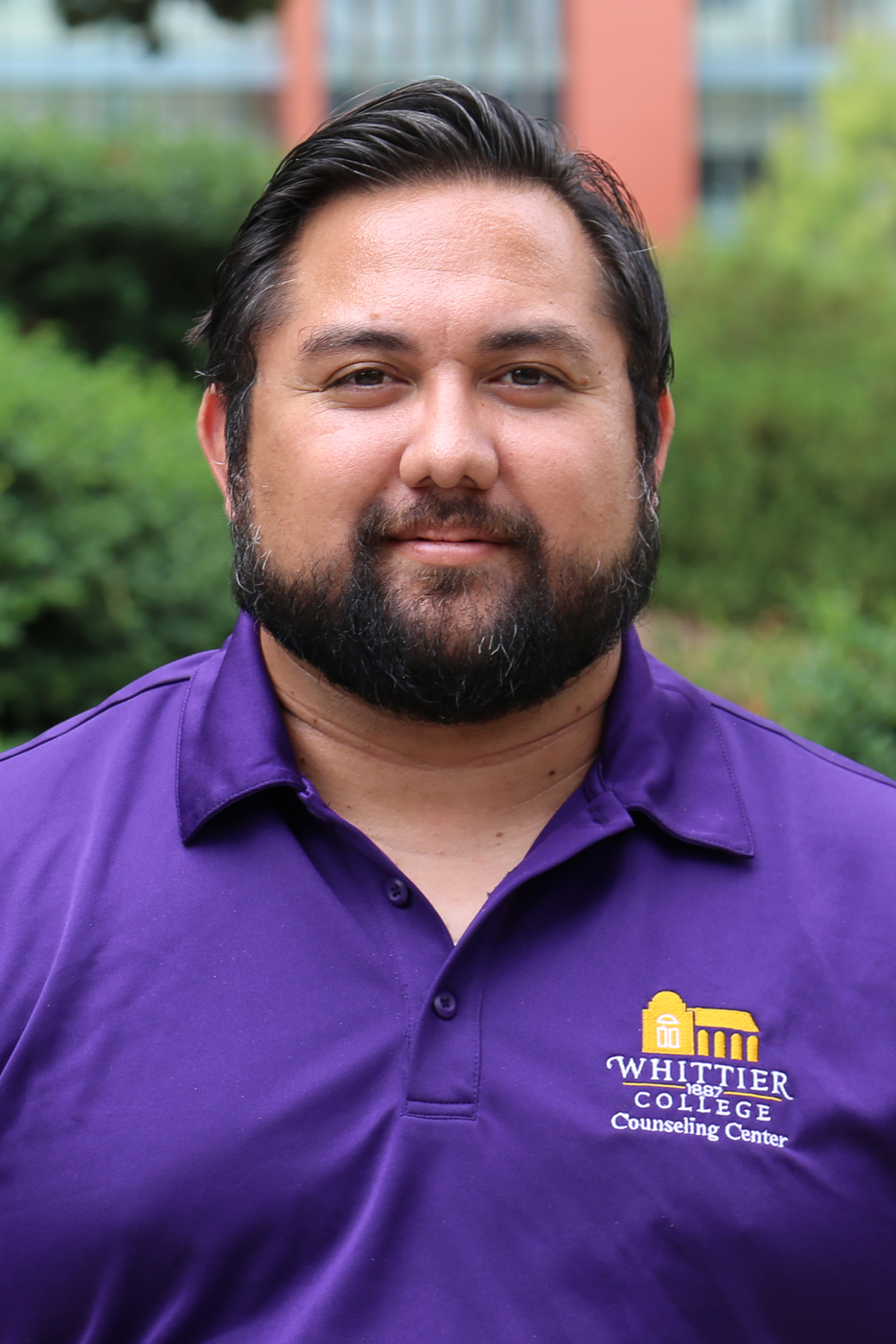 Jason von Stietz, Ph.D.
Post-Doctoral Counselor
Dr. Jason von Stietz returns to the Counseling Center this year as a post-doctoral fellow having recently completed his doctoral degree (Ph.D.) at the California School of Professional Psychology (CSPP) at Alliant International University, Los Angeles with an emphasis in clinical health psychology. His dissertation research focused on mental toughness among strength-athletes such as weightlifters and powerlifters. Jason earned a Bachelor's degree in Psychology and Social Behavior from UC Irvine and a Master's degree also from CSPP-Alliant LA. Before returning to graduate school, Jason worked as a neuro-feedback technician, conducting brain imaging and facilitating neuro-feedback treatment. His work resulted in a case study publication in the Journal of Neuro-therapy. While in graduate school, he was a Teaching Assistant in psycho-diagnostic assessment, completed clinical training with athletes at the Major League Baseball Urban Youth Academy and Los Angeles Valley College, and worked in a community based mental health clinic with adolescents, adults, couples and families.
Jason is entering his third year at the Whittier College Student Counseling Center. With an interest in sport psychology, he has gained experience working with student-athletes at Whittier College by providing mental health screenings and consulting student-athletes on issues such as performance enhancement, stress management, and return-to-play following a concussion. He is also the co-founder of a local sport psychology consulting group. As a former community college track and field athlete and a former California State Games weightlifting champion, Jason feels fortunate to have been trained and mentored by outstanding coaches who have taught him the importance of work ethic and character in every aspect of life. Outside of athletics, he is experienced in using mindfulness and strengths-based methods to support students from diverse cultural and socioeconomic backgrounds as they cope with depression, anxiety, and other challenges to mental and physical wellness. 
Vanessa Calderon, M.A.
Practicum Counselor
Vanessa Calderon is a student in the Clinical Psychology Ph.D. and Master of Public Health (MPH) program at the University of Southern California (USC) where she also received a Master's degree. Throughout her clinical training she has provided therapy to couples, families, and individuals from diverse backgrounds. She has also administered neuropsychological assessments to older adults in English and Spanish through the Alzheimer's Disease Research Center at the USC Keck School of Medicine and Rancho Los Amigos National Rehabilitation Center. Vanessa's research focuses on mental health disparities and sociocultural factors implicated in serious mental illness. Her dissertation will explore the role of the family on treatment adherence among Latinxs with serious mental illness. She has also examined the relationship between discrimination, identity, and psychotic experiences among college students.  
Vanessa has a longstanding commitment to advocating for educational access for all students, especially those that are traditionally under-represented in higher education. In her free time, she enjoys volunteering, spending time with friends and family, and writing. She is thrilled to be a part of the Whittier College community and looks forward to supporting students on campus.
JoAnna I. Dias, M.A., M.A.
Practicum Counselor
JoAnna Dias is a doctoral student in Clinical Psychology (Psy.D.) at Azusa Pacific University (APU), where she received a Master's degree in Psychology. Prior to her current training as a therapist, JoAnna also received a Master's degree in Spiritual Formation and Soul Care at Talbot School of Theology, where she trained to become a spiritual director. Last year, JoAnna completed a clinical rotation at the Biola Counseling Center, providing individual psychotherapy for undergraduate and graduate students, as well as young adult community clients. She has experience working with individuals with concerns regarding acculturation, trauma, sexual identity, and career direction as well as those experiencing anxiety, depression, struggles with faith/spirituality, and romantic partner or family conflict. JoAnna's research interests include emerging adulthood, spiritual struggles, and women's issues. Her doctoral dissertation explores spirituality and spiritual struggle unique to the developmental experiences in emerging adulthood. 
When not working, JoAnna enjoys riding her bike at the beach, doing yoga, reading a good story, and spending time with family and friends. Having worked with young adults in various capacities for the last 11 years, she is excited about the opportunity to serve students at Whittier College Counseling Center this year.
Guadalupe Herrera, M.A.
Practicum Counselor
Guadalupe Herrera is a doctoral student in Clinical Psychology (Psy. D) at Rosemead School of Psychology where she also received her Master's degree. Her clinical rotations have included Biola University Counseling center and Didi Hirsch Mental Health Services giving her experience providing psychotherapy to college students as well as adults and older adults. Her doctoral research focuses on attachment-based psychotherapy for survivors of human trafficking. Guadalupe is experienced and passionate about supporting students coping with grief and loss, religious/spiritual concerns, trauma, depression, and anxiety. She works primarily from a psychodynamic approach while also incorporating techniques from other modalities. She is a former NCAA Division II college soccer athlete. In her free time, she enjoys playing soccer, taking boxing and Jiu Jitsu classes, traveling, and spending time with friends and family. Guadalupe is excited to be serving the students at Whittier College this year in the Student Counseling Center, as well as conducting outreach services in collaboration with departments across campus.
Christie Lindsey, M.A.
Practicum Assessment Trainee
Christie Lindsey is a doctoral student in Clinical Psychology (Ph.D.) at Rosemead School of Psychology at Biola University, where she also received her Master's degree. Her clinical rotations have included Biola University Counseling Center, where she provided psychotherapy to college students, and The Guidance Center, where she provided individual and family psychotherapy to children. Christie also worked as an extern to a school psychologist in the La Habra School District, administering psycho-educational assessments to children. Her doctoral research focuses on the predictors of spiritual self-awareness, including awareness of a higher power and spiritual friendships.
Christie is experienced in and passionate about supporting college students' success, as she works as a first year seminar instructor and academic advisor in the psychology department at Biola University. In her free time, she enjoys watching movies with her friends and family, singing, and taking walks at the beach in her hometown, Torrance. Christie is excited to be serving the students at Whittier College this year doing assessment in the Student Counseling Center.