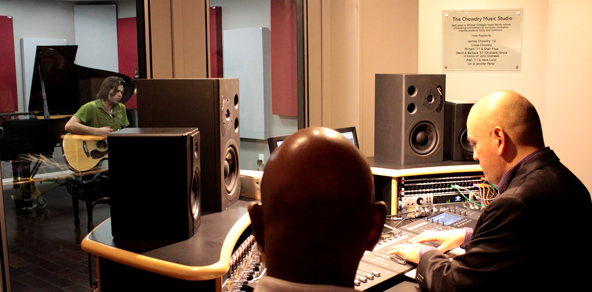 Cue the melody and hit record.
On Wednesday, Whittier College's Department of Music officially opened the doors to the Peasley Center's new state-of-the-art Chowdry Music Studio.
A project three years in the making, the soundproof studio comes equipped with Apple Logic recording software and houses a central lounge area with tech panel, main recording room with Steinway piano, and vocal room.
As the music program at Whittier has expanded over the last 10 years to include classes ranging from music theory to ethnomusicology, the Chowdry Music Studio will give students an edge for a higher education in music and round out their preparation for careers in the recording industry.
Students enrolled in the music department's technology classes will have access to the new facilities.
At the studio's dedication ceremony, music professor Stephen Cook told the crowd, "Students have been talking about [the new studio] so much, talking about the possibilities of what they can do - their senior projects, undergraduate research, compositions, being able to write entire orchestral scores themselves. There are immense possibilities for us that we have really only begun to touch upon. This is a very lean, mean studio, so the idea is that we just come in and turn it on and immediately start working." 
The Chowdry Music Studio was made possible through the generosity of James Chowdry '12, Linda Chowdry P '12, Richard '71 and Shari Foos, David and Barbara '57 (Ondrasik) Groce, in honor of John Ondrasik, Alan '71 and Irene Lund, and Jim and Jennifer Parks, as well as the College's Office of Advancement.
Guests at the dedication ceremony also enjoyed a performance by Whittier alumnus Will Dickerson '10.